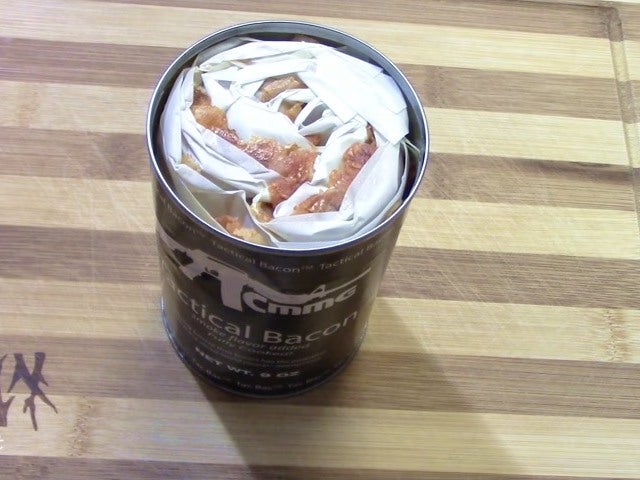 Unless there is a pile of bacon on the side, no breakfast is complete. When the grid goes down, this is going to make a complete breakfast difficult to have. The solution may be a can of bacon.
There is a YouTube personality by the name of TheWolfePit who taste tests various foods. In this video, he tries out a can of CMMG Tactical Bacon. In a previous video, he tasted a can of Yonders bacon in a can.
Specifications
From the Amazon page:
Tactical bacon in a can
Fully cooked and fully prepared
10+ year shelf life
Perfect for camping, hunting, zombie standoffs, end of the world scenarios
Net weight is 9 oz.
Price: $27.77
Now for the video.
Between the CMMG and the Yonders canned bacon, it appears the Yonders may be the better buy.
$27.77 seems a bit much for a can of bacon. Then again, this is canned bacon with a 10+ year shelf life.  Can you put a price on something that could bring about world peace?
A nine-ounce can of Yonders bacon from Amazon costs $17.00, which is $10 less than the CMMG tactical bacon.
TheWolfePit score:
Yonders bacon: 9 out of 10.
CMMG tactical bacon: 8 out of 10.
Have any of the readers tried bacon in a can? If so, what did you think of it?