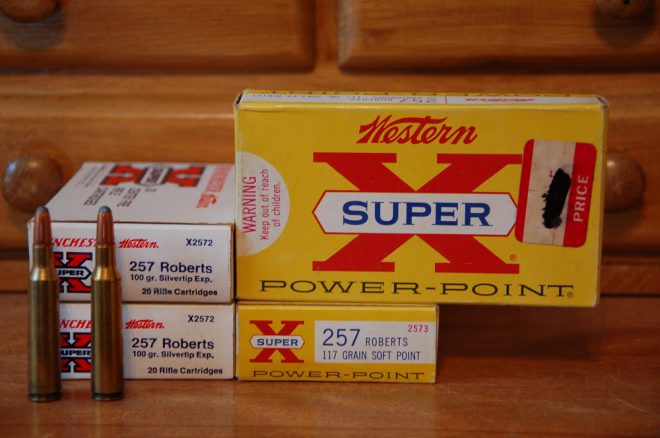 The 257 What? I would not be surprised if many of you deer hunters and rifle enthusiasts ever even heard of this cartridge or knew much about it. If you walked into your favorite local gun shop or hunting supply store and did not find 257 Roberts ammo on the shelf, I would not be shocked either. Maybe that is reason enough for some to discover it for the first time.
The 257 Roberts cartridge has a very interesting and curious history. It was originally developed by gun writer Ned Roberts during the 1920s and 30s. It was created by necking down the 7×57 Mauser case to the 257 bullet size. The 257 is of course the .25 caliber, using bullets weighing from 60 grains on the light side to 117 or 120 grains for deer hunting.
Remington was the first to commercialize the 257 Roberts in 1934 by chambering their Model 30 bolt action rifle for it. Winchester did not lag far behind adding it to their lineup in the Model 54, then later the Model 70. Remington went on to offer this chambering in the Model 722 bolt action and the Model 760 pump action. Much later Remington added it in their limited once-a-year 700 Classic line.
Ruger has also chambered the 257 Roberts in its Model 77 bolt gun, though most other makers have now dropped it from their lineups. Finding a rifle in the Roberts might take some doing, but the search would be worth it.
Despite using lighter bullets in factory loads, the 257 Roberts has been called an ideal cartridge for deer, antelope, black bear, sheep, goats, or long-range varmint hunting. In the 1980s more power was loaded in this cartridge, when ammo makers brought out +P loadings. These loads pushed 120 grain bullets out at 2800 fps, good enough for shots on elk or caribou in my opinion.
Factory ammo can still be found, especially if you shop fully-stocked gun stores or gun shows. Though in some circles the 257 Roberts may be considered an obsolete cartridge overshadowed by several other cartridges, several times over past decades the Roberts has experienced a resurgence of interest.
My own nostalgic 257 Roberts was chambered in the 1983 Remington Classic Model 700 rifle. It has an even more nostalgic Redfield scope mounted on it. It will be put back in service this deer hunting season.