Tenacious: Spyderco Files Second Lawsuit Against Kevin, Inc.
Joshua Wussow 08.31.17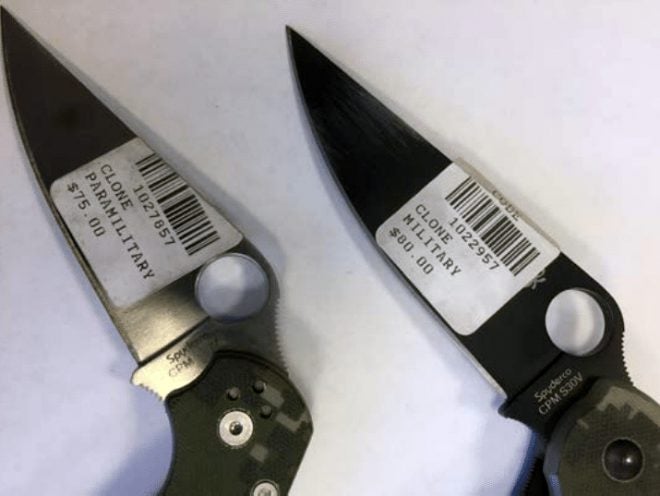 Spyderco is proving to be as "Tenacious" in the courtroom as they are at the knife counter. Following the dismissal of their first lawsuit against Maine's Kittery Trading Post, the company has filed another suit against the same opponent. The claim remains the same – According to Spyderco, Kittery Trading Post operator Kevin, Inc. profited from the willful sale of counterfeit Military and Paramilitary 2 knives.
The company's initial suit showcased a photo of the fakes, each clearly labeled as a "CLONE" of the popular production knives. This becomes legally problematic, due to the inclusion of such propriety items as the Spyder Mark and the maker's stamp of the Glessers. And, though the clones' point of origin is unknown, each bears the clearly-recognizable "Golden, CO, USA, Earth" production stamp.
So, why was the initial lawsuit dismissed? Sometimes, location makes all of the difference. While Spyderco's first filing took place in Colorado, the alleged infraction took place in Maine. This was enough to cause U.S. District Court Judge Christine Arguello to dismiss the charges without prejudice.
It's those last two words, however, that were the key to this continuation. Because of the no-prejudice decision, Spyderco was free to refile the lawsuit in the U.S. District Court of Maine. This will allow the court to consider whether Kittery Trading Post illegally profited from the sale of clone knives without quibbling over where the damage was done.
While this second verse resembles the first, KnifeNews points out that "two Colorado-specific charges – the violation of the Colorado Consumer Protection Act and Misappropriation of Business Value – are no longer at issue." This refocusing of the charges should help Spyderco avoid the legal pitfalls that sunk their first litigious attempt.
Though many popular knife companies suffer from unauthorized cloning, Spyderco has taken point in the battle against counterfeiters. They are currently pursuing legal action against eBay, claiming that the online giant doesn't do enough to block the sale of knockoff knives.
(Photo credit to KnifeNews.com)