Where Will Hurricane Irma Land?
Jon Stokes 09.05.17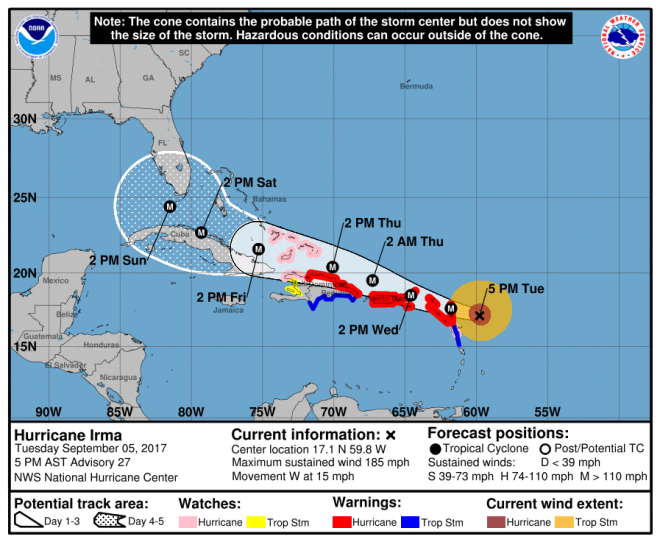 As we prepare for Hurricane Irma, the big question on everyone's mind is, where will it land?
Right now, the European models that were more accurate for Harvey have the storm turning north and going toward the east coast, whereas the US models have it going into the Gulf. But as of right now, nobody really knows.
As we watch the storm and try to discern where it's headed, here are a few sites that will let you follow along (we have no relationship with any of these sites):
Stormpulse bills itself as "hurricane tracking for professionals", and I've been watching not only the live map but also the real-time analysis page.
Mike's Weather Page has the very latest models and charts, so if you can handle a data overload then you'll want to check it out.
Tropical Tidbits is also a great, go-to site for the latest news and analysis, so you'll want to keep that one open in a browser tab, as well.
Finally, SpaceCityWeather.com is everyone's new favorite Gulf Coast weather site, so keep them in your rotation. The latest post on that site gives three scenarios for Irma — in two of them Florida gets hit pretty bad, and in the final one the storm veers off to the northeast before hitting Florida.
In all three scenarios, Texas and Louisiana are left alone, but it's still too early to tell. As I said in a previous post, many of us at AllOutdoor.com are on the Gulf Coast, so we're watching it closely and will post updates here.