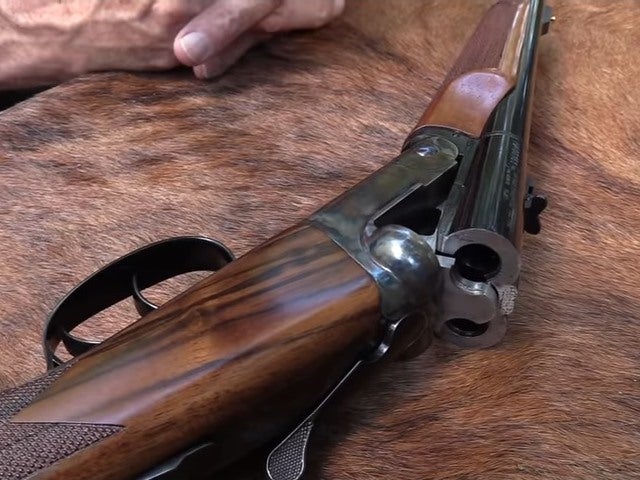 Hickok45 got a new toy, it's Pedersoli Howdah chambered in 45 colt and 410 shotgun. In typical hickok45 style, he takes the shotgun/handgun to the range and has a blast with it.
From the Italian Firearms Group web page.
Pedersoli's Howdah 45/410 is a double triggered, breech loading, extractor pistol reproduction of the famous Auto & Burglar pistol produced by Ithaca in the 1920's. Pedersoli's model introduces completely different characteristics making it legal for importation and purchase in the US.

The main difference is that Pedersoli's Howdah 45/410 is chambered in 45 Colt, having 10.25 inch, 6-groove rifled barrels with a 1:48 right hand twist and equipped with lengthened chambers to support use of 3 inch .410 shotshells. The pistol is furnished with a ramp front sight and folding rear leaf sight. The rear grip fits snugly in the hand allowing easily controlled use.
Now for the video.
I have to say the firearm is a work of art; it is absolutely beautiful to look at.
In the video Hickok45 says the suggested retail price is around $1,200. For that price, I imagine a lot of people looking for a dual purpose firearm will continue to purchase the Taurus Judge.
Awhile back I was at an office where the owner kept a Taurus Judge loaded with 410 buckshot in his desk. When I asked why a Taurus Judge instead of a regular handgun, he said his office was only 15 feet wide and a 410 fires more pellets with each pull of the trigger than a 9mm. He had a good point. In a space the size of an office, being hit with three pellets of 410 buckshot may be more effective than one 9mm bullet.
So, what do the readers think of the Pedersoli Howdah 45/410? Would it have a place in your collection?