Hands-on: Remington Ultimate Defense Managed Recoil 00 Buckshot
Jon Stokes 09.11.17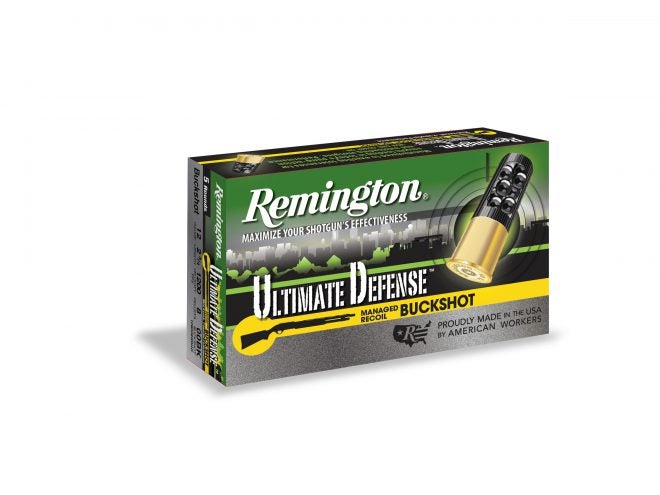 One of the pleasant surprises at the recent Gunsite event was Remington's managed recoil Ultimate Defense loads. I've read that many police departments are moving to these managed recoil loads, but I'd never actually shot any of this stuff, myself. I've been buying the cheap stuff; I have some plain old Rio Royal Buck, and recently through a trade I came into over 900 rounds of NobelSport Multi-Defense buck.
Yeah, 900 rounds is a ridiculous amount of buckshot (I was helping a friend out by taking this off his hands), even if zombies were to come for all of us. So, despite the fact that this brand wouldn't have been my first choice, I figured I was set for life on buck, or at least until the primers go bad. I had no interest in picking up anymore of the stuff until I ran some of the managed recoil loads through the Tac-14.
Remington's managed recoil loads go a long way toward taming the abuse that this birdshead-grip scattergun can dish out, and now that I've had the experience I wouldn't want to run this gun with anything but managed recoil loads of some type.
We spent a good two hours with the Tac-14 and the 870, and after running a mix of the managed recoil loads and regular multipurpose shot, I didn't really have any issues with my wrists or shoulder getting sore. So I can see why PDs are moving to these types of loads.
I'm due to get a Tac-14 in for review, soon, so I'll be putting this gun plus some of these soft-shooting loads in the hands of some first-time shooters, and writing about the results. So stay tuned for more on this topic.