KRG Arca Rail and Arca Clamp — Another QD Mounting Interface?
Dickson 09.26.17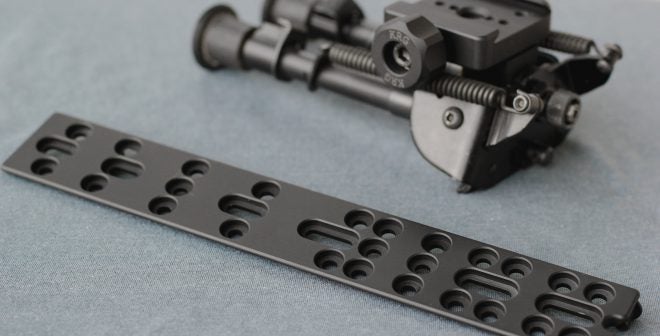 Kinetic Research Group recently released the new Arca Rail and Arca Clamp. Designed for long distance shooting, the Arca Rail attaches to their Whiskey-3, X-ray, or Bravo chassis, allowing you to mount the Arca Rail which attaches to a tripod.
As the names imply, it uses the Arca-Swiss interface, which is similar to picatinny rail but it is wider and without slots for recoil lugs. This interface, originally designed for mounting cameras to tripods, was designed by a company called Arca-Swiss back in 1990s.
This will, however, bring compatibility to anyone that already owns a tripod or tripod head from companies like Really Right Stuff, who incidentally has a division called S.O.A.R. which produces specially-designed Arca-Swiss tripods and mounts for precision rifles.
Do we need another interface on top of existing standards such as picatinny rail, Keymod, M-Lok, HKey, AI Keyslot and UIT/Anschütz rail??