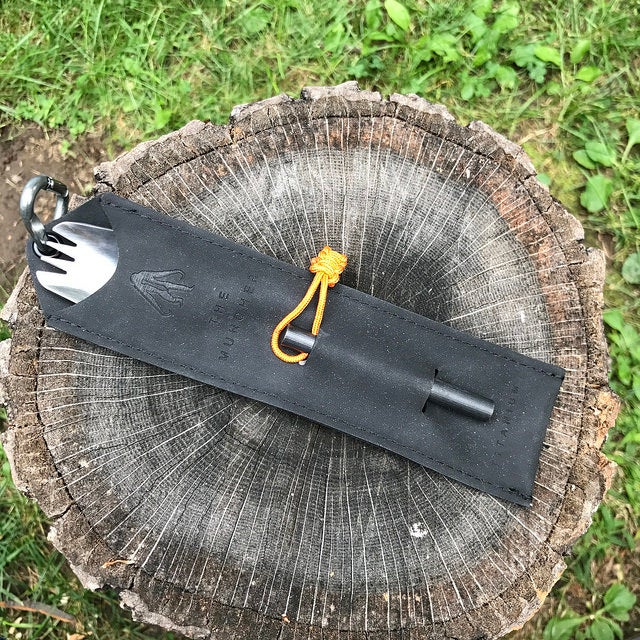 Good lord, a review of an "outdoor spork"? Really? Yep, really. I am, like you, burned out on all of the twee "outdoor tools" and one-piece multitools out there. Kickstarter, where the Muncher got started, is inundated with a bazillion of these things, in part because they are generally easy to make and in part because they are as trendy as fidget spinners. As someone who reviews gear and is somehow on the Kickstarter press packet circuit (I got a review request for a robot that babysits your pets, no joke), I get so many requests I just have to skim them. Every once in a while one of these requests catches my eye, and the Muncher was one. I reached out to the makers and they sent me a review sample. Unlike the vast majority of these products, the Muncher isn't so much a trinket as it is a real and functional tool. This is the best outdoor cutlery I have used, and I have used more than my fair share.
Description
SHOP NOW
The Muncher
launched on Kickstarter
. It was a huge success with more than 4,000 backers and $268,000 in funds generated. That is an excellent result. The Muncher is made of titanium and will be available from Full Windsor in the future without having to go through KS. Like a lot of one-piece multitools, the Muncher has a bunch of different angles and edges cut into it, all of which provide features. The Muncher is a spork, a peeler, a bottle opener, a can opener, a firesteel striker, a serrated knife, a screwdriver, and a prybar. The sheath is also something of a tool. It attaches to gear via a carabiner and it stores the firesteel as well as the Muncher.
Testing
It just so happens that I find any food, including mundane dishes, better when cooked on a campfire.  This gave me a bunch of chances to test the Muncher, including its stabby end and its scoopy end.  Both were useful and both did exactly as Full Windsor claimed they would. I also used the firesteel to aid in starting a fire. It's not the best firesteel I have ever used, but it is functional. The can opener does work but it really butchers its target. The bottle opener and peeler are both excellent.
Design
The two main implements–the spork and the knife–are very good in shape.
Just like a good pair of pliers works wonders on a mutlitool, in these one-piece multitools, the main tool really needs to be good or the whole thing is useless. Fortunately both main tools are well-designed here. I could actually eat soup with the spork and cut corn off the cob (messily) with the knife. I would have preferred different placement for the can opener as it can get a bit pokey in tight grips. It's distinctly not thumb-friendly.
But as you travel down the tool towards the center, the peeler is absolutely great. Not only will it take off the peel of an apple or a potato, it isn't sharp enough to grab any part of your mitts. It also works exceptionally well as a bottle opener. This is a clean one-tug bottle opener.
I do worry that one particularly tough-to-open bottle will chip the edge of the peeler and result in Julienne or crinkle-cut fries, but now that I think of it, that probably wouldn't be the worst thing in the world.
Implementation
The entire package here is very well done. The titanium in the spoon portion of the spork is highly polished. The serrated edge is cleanly cut and actually quite functional.  Over and over again, each feature of the Muncher is well done. The sheath is especially useful, with a nice sturdy material, good seams, and a nice tight fit for the firesteel.  Which brings me to the firesteel; it's decent. It's not the inert piece of chalk that came with the Schrade SCH36, but it is not as good as my standalone Light My Fire Swedish Firesteel. It sparks, but it does not produce the shower that the LMF releases.
Part of this is the fault of the firesteel itself, but it also doesn't help that the striker are on the tool is very small. I'd much rather go with something larger than have it be textured.  Also, be aware that firesteels tend to strike better with steel than titanium. Firesteels work when the material is shaved off, and titanium, being a softer metal, has a more difficult time doing that than hardened steel. Any hard object will work, but the harder the better.
Conclusion
In the end, the Muncher stands out above the crowd of one-piece multitools. In fact, it stands far above the rest of them.  It's very good as a spoon as well as a spork. It's decent as a knife and a screwdriver.  If you go down the list, nothing is terrible, with only the firesteel being noticeably below-average compared to a standalone option. But then again, that's the tradeoff inherent of all multitools–you get many features, but all are a bit compromised. Here, there is not too much compromise. Furthermore, the tool selection seems logical. The Muncher is intended for use around a campfire and almost every feature works in that setting. The screwdriver is probably the least useful, and given its design footprint, that's not a big deal.
The Kickstarter campaign is over, but it's worth it to wait around for the retail release of the Muncher.  It is light, useful, and well-made. The only real ding is the firesteel, and you can swap that out pretty easily. My fake ding is with the KS video for the Muncher. In it, a person demos the firesteel and with one swipe lights a pile of tinder into a glorious glowing flame. As a lifelong user of firesteels, and as a recent user of this particular firesteel, that is as much a work of fiction as it would be to perform heart surgery with this thing as your scalpel. Firesteels NEVER work like that despite our best preparation and hopes.
SHOP NOW