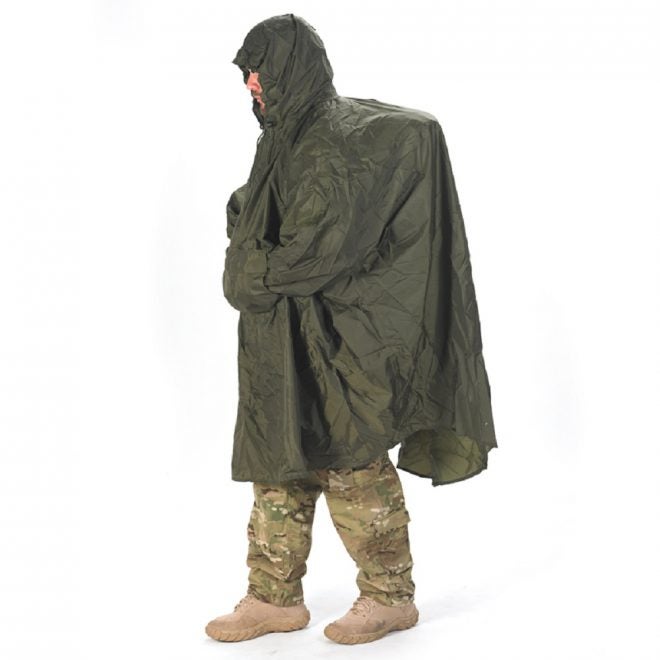 It is never fun or comfortable to get wet in the outdoors. The condition of being soaking wet seems to be magnified when hunting and a rain storm blows in. However, there are many conditions for hunters, preppers, survivalists, campers and hikers, when a little rain protection is a welcomed kit accessory.
I remember deer hunting once sitting in a tripod stand about two miles from camp out in the wide open. We had no iPhones with no notice of a storm coming, but one was. As the clouds got blacker and blacker and the wind was rocking the stand, I decided it was time to get out of Dodge. But I was too late.
Before I could even get out of the stand and on my ATV the zipper came open. I had no rain suit, no jacket or any protection from the torrent whatsoever. It rained so hard, I had to use one hand to shield my eyes from the stinging downpour. When I finally got parked under the cabin, I began stripping down. There was not a dry garment on my body including my underwear.
A movie scene with Michael J. Fox always stuck in my memory from his movie Casualties of War. Fox was sitting in the Vietnam jungle in a downpour getting soaking wet despite his military issue poncho. He looked like a drowned rat. I know the feeling.
After a lengthy search of just what I wanted, I finally walked into a new survival store, American Ops in Pearl, Mississippi. The owner Reese Robbins showed me the new Snugpak Poncho and explained its features. I bought it immediately. It has been a great investment for my prepper and hunting kit.


The Snugpak Patrol Poncho is an oversized one piece pullover rain garment designed to cover the person even toting a large loaded pack. The poncho is made from Paratex a unique dry material with taped seams. The shell is 100% waterproof, not rain resistant. The poncho includes a Velcro ® chest map pouch, an adjustable hood with draw cord and thumb loops on the sleeves.
The poncho weighs only 13 ounces and comes in black, olive green, and coyote tan. It folds and rolls to fit inside a separate tube sack with a locking pull cord closure. This poncho can also double as an emergency bivvi shelter if necessary. There is also a separate insulated poncho liner available, too. The Snugpak Poncho retails for less than $50 at most outlets. Check it out at www.proforceequipment.com.

SHOP NOW