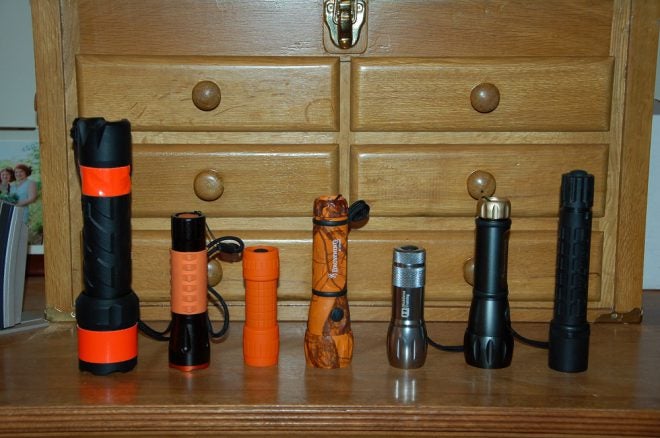 Preppers can never have enough flashlights. But having them, or so many, or too many can be problematic. Sort of like a menagerie collection of wild animals, a box full of flashlights can get out of hand. Here are some suggestions for simplifying your luminary collection into a more functional, practical selection of lighting instruments.
You can go the very simple route and just have one type of flashlight and buy several of the good ones. If you go this way, then settle on which battery size to use and then collectively standardize your entire light inventory. I can only recommend to avoid lights using the C-123 battery. They are expensive and do not last long.
Overall, the better choice is a medium sized flashlight that is handy and uses AA batteries, because this size seems to be highly universal with a number of other battery powered appliances. Also there are often really good sales on big packs of AA batteries. Be careful though not to overstore up on them, because over time they do lose juice and the cheap ones can start to leak. I base on this on real life experience. Cheap batteries are cheap batteries.
Now, having advised all that, I am the first to violate my own lecture. I have a lot of different kinds of flashlights or battery powered lights, almost for a variety of specialty reasons. I have flashlights for camp use and hunting, vehicle work, and searching around the house, garage and such. I also have a couple headlamps that are great for no-hands use.
I place flashlights all over the house from the kitchen counter, the night stand, the closet where I keep my wallet and keys, and one in the garage. There is a flashlight or two in my gear box on the ATV and one in the glove compartment of the pickup truck. I have another in my EDC bag, and a strap gear panel or Cocoon Bag. There is one on my desk to find dropped things or to work on the computer.
Be thoughtful too before choosing lights that recharge. They work great until the grid is gone. And remember good flashlights do not require a home loan. Try one with the new digital "bulb" with adjustable beam bezel. They are super bright. Try to standard batteries to one or two sizes at best.