Old dogs can't learn new tricks, so says the Collective Wisdom. And as far as the knife business is concerned, it is hard to find older dogs than Buck Knives and Ka-Bar. Both are as old as it gets and both are virtually synonymous with a particular style of knife.  Buck's 110 model is the progenitor of all lockback folders, while the Ka-Bar USMC is the Ur-field knife.
Over the years, new designs have tried to displace these two classics, and to some degree, they have. But Buck and Ka-Bar both have initiatives that leverage their know-how in new and interesting ways. The two initiatives below show the way forward not just for Buck and Ka-Bar but for any other player in the knife business.
Buck Legacy Collection
Buck has been doing special editions and high-end stuff for a long time, but recent knives coming out of the Legacy shop have been insane.
First there are some ultra-high-end models like the Legacy Collection Marksman Elite, an upgraded version of the already awesome Buck Marksman. The Marksman is a collab between Buck Knives and the Hawks. Its strap lock and flipper are both incredibly innovative. The standard model runs 154CM, not a bad steel at all. The Legacy addition adds S90V steel, drops in an inlay on the handle, and switches colors around. The result is an aesthetically pleasing and high-end version of a very good knife.
If that was all there was, the Legacy Collection would be something like Benchmade's Gold Class, albeit with more affordable prices. The Legacy Marksman Elite sells for $180 street. There is a similarly upgraded version of the Whitetail flipper. The real showpieces here are knives like the Jeff Legerton Brazen Bowie (shown above). The knife has a radical design; a Bowie as drawn by a comic book artist and brought to life by a master knife maker. This is a design so bold it is hard to imagine it coming out of a production company. Another design, the Conifer Dagger, is similarly radical but includes a rare handle material–resin-impregnated pine cone.  To my knowledge, only Bark River and Buck make production knives with this unusual material.
My favorite knife in the Legacy Collection is the Onset Flipper.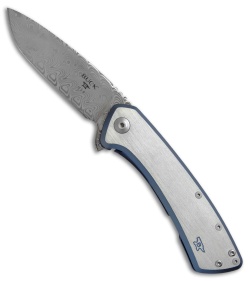 This is a striking, minimal flipper. The steel is an exotic combination of PCM-27 (a powder steel relative of D2) and RWL34 (a 154CM relative). The pattern Damasteel achieves in this combination, called DS93X, is truly stunning. The overall profile of the Onset places it square within the trends of the market: a 3.45 inch bearing pivot, titanium framelock flipper. The knife handle has a striking blue chamfer that gives the entire knife a letterboxed appearance when closed. If the Onset came from the bench of the hottest custom maker around, it wouldn't look at all out of place. Instead, it comes from one of the oldest and most venerable companies in the business–a sign that old and trendy can indeed mix.
Ka Bar's State and Union Knives
In this day and age of instant gratification, it is hard to imagine a company or a brand that doesn't have a website. But State and Union (the custom shop for Ka Bar) doesn't have one (at least as of September 2017). It has an Instagram page and the output displayed there is nothing short of catnip for fixed-blade fans. Given how awesome their stuff is, they have probably earned a website. Heck, I haven't even seen a knife from them on sale. That's pretty darn exclusive.
The vast majority of their output, or at least what they have shared of it, are variations on the USMC Ka Bar. These versions include all sorts of different blade coatings and stacked-material handles. One of my absolute favorites was a USMC with gray and purple stacked handle and a gleaming polished pommel cap. They have showed off a few other variants with muted greens and striking black-and-yellow patterns. All of these have a look that fits the 2017 vibe perfectly. They are, in a way, what would happen if Joe Oester and his design language got entangled with a USMC. Honestly, I couldn't think of a way to take such an iconic knife and make it new, but State and Union did.
They have also showed off some variants on other knives. They showed off a rock-pattern version of the Mike Snody collab "the Big Boss." Again, the colors are striking–camo green with a black "bolster." The blade finish is tougher-looking too. In all, it is a brilliant take on what looks like a great field knife.
My affinity for the knives of one of the other knifemakers in the Ka-Bar stable, Jesse Jarosz, makes me hopeful that one of his knives, either a folder or a fixed blade, gets the State and Union treatment. And then there is the matter of Ethan Becker. He has long designed some of the best fixed-blades in the world. Giving them a once-over with nicer materials and better aesthetics would be one of the coolest "cherries on top" for knife fans. I like black, and powder coat is fine, but the black-only color scheme on the Ka Bar/Beckers could use some sprucing up. Imagine a 3V BK9 with micarta handles and mosaic pins instead of screws. I could even go for the "heat treat scale" or rawbar finish found on knives like those from Fiddleback Forge or Lon Humphreys.
The Ka Bar lineup is deep and full of great, high-value options. State and Union gives people the chance on own one of these great users with a bit of style added.
If Buck and Ka Bar can push the envelope more than a hundred years after they were founded, it gives me hope that newer companies can do the same. It is also evidence that we are truly lucky in the Gear World right now.