Pocket Organizers: Extending your EDC Options
Joshua Wussow 09.27.17

Even as EDC enthusiasts, sometimes we need to face facts – we're carrying too much stuff. Whether it's your backup blade or that mini-lighter, the pockets of your cargo pants are bulging with seldom-used tools. Thankfully, companies like Maxpedition and Vanquest are offering special pouches designed to clean up your carry.
Let's get the obvious question out of the way: No, I don't actually carry this in my pocket. It generally lives in my work bag, though it's always ready to be tossed into a suitcase or hiking pack. I've found this to be a one-stop solution for the old "Two is one, one is none" axiom of EDC. Here's a peek at the system I've assembled.
The Pouch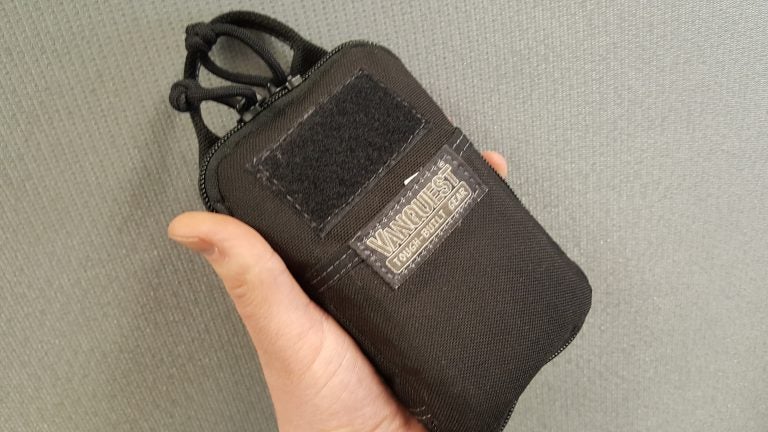 Vanquest PPM – SLIM 2.0 – From Vanquest's line of Personal Pocket Maximizers, this serves as a nice alternative to the popular Maxpedition pouches. My model is from the previous generation, lacking some of the space innovations of the 2.0. Its pouches, zippers, and stitching are all top-notch.
The Contents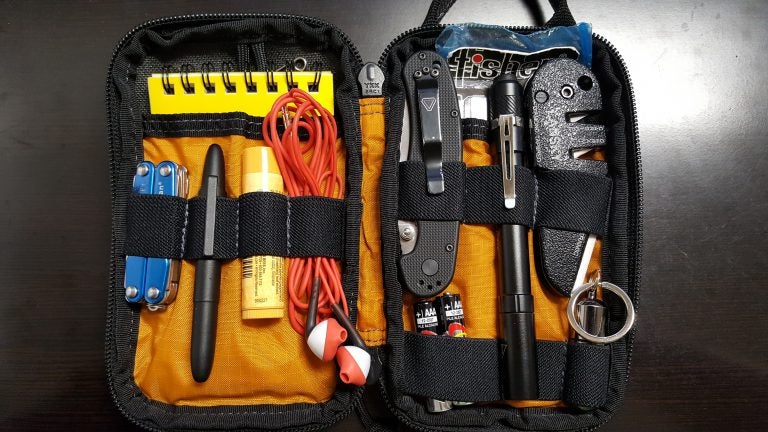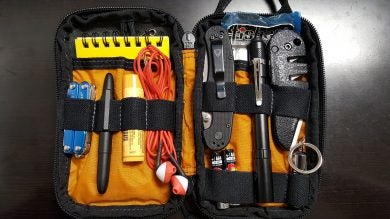 SHOP NOW
Ontario RAT II
– A well-built inexpensive knife that I trust for a variety of applications. I'm anxiously awaiting a version with D2 steel.
ThorFire PF04 – This well-built flashlight offers several modes, topping out at 210 lumens for 55 minutes. Read my full review here.
Two AAA Batteries – For use in the flashlight or whatever else comes along.
Lanksy BladeMedic – I keep this for sharpening emergencies, but it's really not a great tool. It's functional, but your blade will probably need some rehab after a run in with this medic.
True Utility FireStash – An excellent way to pack a backup flame. I recently used this while camping in the high Colorado hills, when my other methods failed to ignite. Full review here.
Homemade Med Kit – I've packed bandages, cotton swabs, floss picks, and a few alcohol wipes into a blue sandwich bag. This has come in handy in the field and at the shooting range when a fellow developed a nasty case of slide-bite.
Phillips Sport Earbuds – I hate these things, but they're damn near indestructible. The sound quality is pretty good, but the hard plastic earpieces cause significant discomfort after just a few minutes. Still, they're reliable and hi-vis.
Burt's Bees Lip Balm – Good for chapped lips, cracked skin, and even relieving small burns. I've used this to quiet the sting of scalds around the campfire.
Fisher Bullet Space Pen – Not the most comfortable or elegant writing instrument, but it'll put a mark on damn near anything. It's compact, sturdy, and eminently reliable. I also carry a replacement cartridge next to the med kit. Full review here.
Leatherman Squirt P4 – One of my favorite multitools, slightly sturdier than my Leatherman Style PS. I've been meaning to upgrade to the linked PS4 model with scissors, but haven't gotten around to it yet.
Rite-in-the-Rain Notepad – This sturdy tablet packs a great amount of versatility. Its waterproof paper pairs perfectly with the Fisher Bullet.
Safety Pin – Hey, you never know when you'll need a pin. I've used this for reaching tiny buttons and pins in recessed spaces.
Duct Tape Card – Take a bunch of duct tape and wrap it around an old gift card, and you've got a DIY tape supply.
Cash – It never hurts to have a bit of cash for unexpected expenses. (And no, I won't tell you how much.)
Lens Cleaning Cloths – I don't wear glasses, but I've used them for cleaning my phone, knives, and other implements.
Bear Grylls Pocket Survival Guide – This came with the first firesteel I bought, and I didn't know what else to do with it. Don't judge me.
Conclusion
This is just the latest iteration of my personal loadout. Like all aspects of EDC, its options vary depending on situation and usage. But whatever your needs, pocket maximizers such as those from Vanquest and Maxpedition are a great way to keep extra gear close at hand.
SHOP NOW