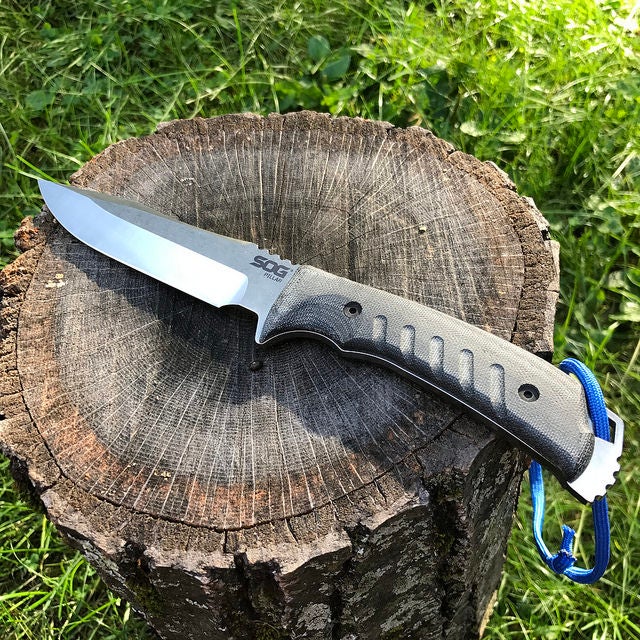 SOG has been chugging along, doing well in bg box stores for a while. Their Flash, Aegis, and Twitch series of knives are among the better blades found locally. Their Japanese stuff, blades like the Visionaries and Vulcan series, have always been well-made. But their recent new offerings over the last four or five years have been less-than-exciting for knife knuts. The combination of weird handles, unusual blade shapes, and low-end steel (dabbling below the 8Cr line is always a recipe for problems) all meant that folks who love blades took a pass. For a few years, it was just a matter of checking in at SHOT Show to make sure nothing interesting was released and then skipping SOG's offerings outside their evergreen stuff until the following January.
SOG has long been a company based on the vision of one man: Spencer Frazer, the company's founder and chief designer. There have been some collaborations, like those with Japanese blademaster Kiku Matsuda and American knife maker Jason Brous, but by and large it has been Frazer's show. Recently, SOG added new blood to management to help supplement Frazer's keen insights, so the company has evolved in the last year or two. The most exciting SOG release two years ago was the SOG packs. The Toc, the pack I reviewed was a good first effort. It had lots of nice ideas with a few things that were more complicated than they needed to be.
But the effect of the new blood didn't really hit home until 2017. For the first time in a long time there were reasons for knife knuts to pay attention to SOG's blades. At SHOT, SOG released a few blades including the SOG Pillar. This knife, like a handful of other releases, was American-made and ran S35VN steel, a huge improvement from some of the lesser steels SOG has used in the past. The Pillar looks amazing on paper: a 5 inch blade, a low-profile kydex sheath, and wonderful Micarta handles. If this is a sign of a new SOG, the future looks exciting.


The Pillar is right in that "jack of all trades" size for fixed blades. At 5 inches, it is small enough to tackle food prep and the like — but its full tang construction also means it can take a pounding when necessary. From slicing up steak to chopping up kindling, the Pillar looks like a very good option. Unfortunately, this part of the fixed-blade market is crowded. Between KaBar at the entry level and Bark River near the top, the Pillar has some serious competition. There are few reasons why I think, based on specs alone, the Pillar could compete.
SOG wisely included a forward finger choil, giving you a surprising amount of control over the big blade. Second, SOG chose a steel thickness that is ideal for real-world use — coming in at between 5/32" and 3/16," you get real slicing capacity without sacrificing much in the way of strength thanks to the high end steel. Finally, the sheath design, long the bane of fixed-blade makers, is versatile and promising. At around $190 street, the Pillar looks to be a legitimate contender in one of the most competitive segments in the fixed-blade arena. It's nice to see SOG with entries across the entire spectrum.