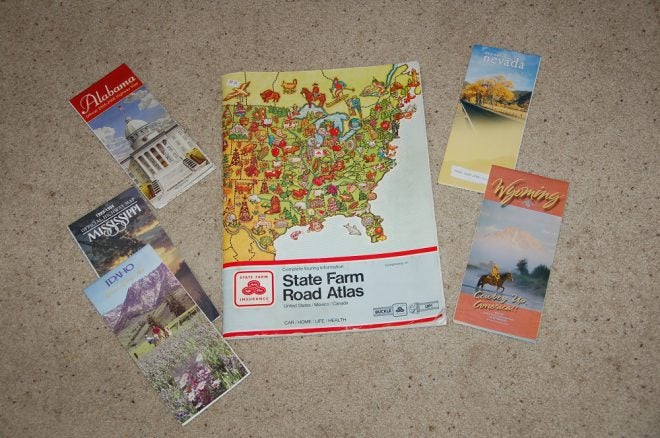 There are automatic posts on Facebook pages showing photos of old items that usually only people my age would remember seeing as a child. I laugh because nearly all of them were common place items when I was a kid in the 50s and 60s. The millennials today have no idea.
So, don't laugh if I ask if you have a state highway map for where you live or even one of those big road atlas books showing major roadways in all the states and Canada. If you don't have these, then get them. Your state tourism office should have copies of a fold out state highway map. Bookstores will have the road atlases. These are vital tools for mapping SHTF escape routes.
In a return favor I will not laugh at you when you say "Dude we have a GPS on the iPhone, one in the car, and another handheld Garmin or whatever. That is fine. I hope they continue to work during a variety of SHTF disturbances including the dreaded EMP or electromagnetic pulse, which generally wipes out all electronics and electrical controls. Then what? Have a paper map to read.
Sit down at the kitchen table with your state map. Take a simple drafting compass and draw circles around the place where you live. By the scale of the map, draw the circle so it goes out 100 miles, then 200, and 300 from your town. Go further if you think it realistic to escape that far especially if you leave early with any advanced notice.
Now within those circles note what cities, towns, national forests, state parks, and other venues that could be identified as a terminal escape point which are realistically available. Generally, I would steer clear of big cities or municipalities with populations over 20,000. That's arbitrary, but those people may be escaping for the same reasons you are. Don't jump from the pot into the fire.
Pick 3-4 potential likely destinations. Then research them. Google the town, parks, or other choices to see what is there, infrastructure, culture, populous, all you can find out. What are the housing possibilities even motels and such, supply stores, groceries, medical community, economic support in terms of businesses, factories, etc. Learn all you can.
Then, one by one, take a weekend trip to each location. Learn the roads, gas stations, garages, and other support services along the routes. Take copious notes and photos. Glean all you can to decide which locations might offer the best escape routes in the event of a real SHTF.