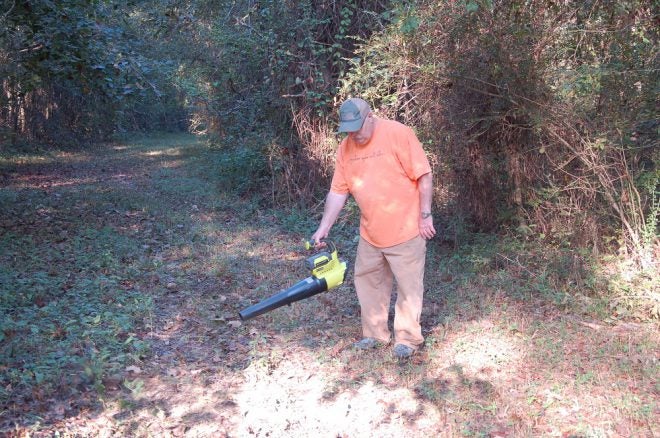 A few deer seasons ago I got the bright idea to plant some small, isolated micro food plots close to a hidden hunting stand. I had a Millennium 10-foot 360 swivel seat tripod stand set up at the junction of three trails. I always saw deer moving in the heavy woods there and I wanted to slow them down when they crossed a trail, so I went to work with a rake, two bags of Throw-and-Grow food plot seed mix, and some fertilizer.
The whole process worked pretty well, but during the off-season I thought through the idea some more to make it easier and quicker. All that raking in the summer heat just about wore me out.
How could I clear debris from the trails before planting the seeds? All it took was a day in the yard at home to discover the secret. While running my battery powered, rechargeable Ryobi leaf blower, the light bulb went off.
Next time around, the fully charged blower was on the ATV along with a strong tined rake, a fast-growing seed mix for tough ground, and a canister of Triple-13 fertilizer. I used the blower to clean off the food plot. The ground was blown slick and clean in just a few minutes.
Next, I used the heavy iron rake to break up the soil surface into a finer soil seed bed. Then I tossed the seed over the 10×12 micro plot for a fair coverage. Same with the fertilizer. I got a good coating, but not overdone. There is more guessing to this than science. Finally, I used the back side of the tines to lightly cover the seed and fertilizer.
The final touch was to crank the blower again to give the food plot a light cover of leaf material (while trying to keep the sticks and bigger trash off the seeded ground). That was it.
Now all I needed was a good pre-season rain or two to make everything green up; it did. I hung cameras nearby and got plenty of photos of deer crossing the trails headed to my little hidden "blow hard food plot."