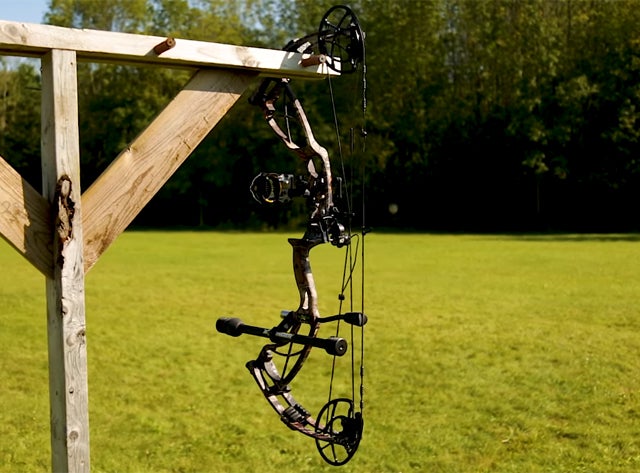 The Xpedition Xplorer is one of six flagship hunting bows I've been testing for our sister site, ArcheryTalk.com. Xpedition Archery is a smaller bow manufacturer, and this was the first time I've been able to spend much time with one of its bows.
The bow is set up with a QAD Ultra Rest, Bee Stinger Counterslide stabilizer, Trophy Ridge React H5 five-pin sight and a quarter-inch peep sight.
This is a fairly compact bow with an axle-to-axle length of 30 inches, brace height of 6 1/8 inches, IBO rated speed of 355 feet per second, and mass weight of 3.9 pounds. It has an MSRP of $1,049.
Take one look at the Xplorer SS and you can see that fit and finish are on par with any of the big manufacturers. The RealTree AP Black camo finish looks great in among the trees in the thick woods where I typically hunt.
One of the wood inlays on the side of the grip was a bit loose when I received the bow, but it tightened down easily.
Pick up the Xplorer SS and you'll notice right away how light and compact it is. If you hunt from a small blind or in really tight quarters, this bow would fit the bill.
I love the grip on this bow–probably my second-favorite of any hunting bow I've tested this year. It's nice and flat in the front and fits my hand really well.
Though I don't normally love shooting short speed bows, I came to really enjoy the Xplorer SS. While the draw cycle is on the stiff side, it is smooth and linear, pulling smoothly into the valley without a big dump. Of the three speed bows I shot this year, this one easily has my favorite draw cycle.
The valley is fairly generous, so you can relax a bit at full draw without worrying about the bow getting jumpy. Since this is a limb-stop bow, the back wall is incredibly firm.
Letting the bow down can be a bit rough, as you'd expect from a speed bow. After the shot, vibration is minimal. Though there is a noticeable "pop" after the shot, I wouldn't characterize it as loud.
As for accuracy, I found the Xplorer SS to be a sweet-shooting bow at 20-30 yards, but that was about it for my hunting comfort level. I struggled to stay consistently accurate at 40 yards and beyond, but it should be noted that this was just one of six bows I was getting used to at the same time.
To check the speed of the Xplorer SS, I ran it through a chrono while shooting a 398-grain Gold Tip Valkyrie arrow. I saw an average speed of 295 feet per second. For a 60-pound bow at my draw length with an arrow that heavy, that is really nice speed.
Tuning the bow was a breeze. In no time I was shooting bullet holes through paper and grouping broadheads with field points.
Xpedition is a fairly small brand and not everybody knows a lot about them, but the end product is on par with what any of the big manufacturers produce. I let several people at my club shoot the Xplorer SS and they all came away impressed. In fact, one guy even bought this bow from Xpedition after shooting it.