Decided to Get a Rifle to Start Building a Benchrest Monster!
Ron Gunner 10.21.17

It's been a while since I actually went out to do any benchrest rifle shooting, in fact last time I did it was with a custom Rem 700 I had "back in the day." Sadly, that rifle is long gone, and even though I shoot rifle/shotgun and pistol in matches, I have not been shooting benchrest for a long time now.
So with winter coming and many matches stopping for the year (at least in this area), I figured it was time to get back into it once again. I never want to go weeks, let alone months, without some sort of shooting going on. I will shoot pistol of the winter both indoors and outdoors, snow don't bother me but the club I belong to does not let center fire rifles on the new indoor range. We can shoot 22's all we want in there.
So they have a 200 yard outdoor rifle range where I plan on shooting as much as possible starting now. It is under cover and is very nice with concrete bench tops with ¾ inch rubber padding and swivel seats that are also padded. The place is there and ready, all I need is a dedicated rifle on my end.
After much research online and discussion with a few friends who have rifles for getting into BR shooting and a trip to the gun store, I came home with a Weatherby Vanguard Chassis rifle in .223. I did have these as my top three picks: Weatherby, Ruger, and Savage.
After looking at everything, there is still this allure about a Weatherby rifle. It is mounted to an MDT LSS-XL aluminum chassis with a Luth-AR MBA buttstock that is fully adjustable for a perfect cheek weld. It also has a Hogue Overmolded pistol grip.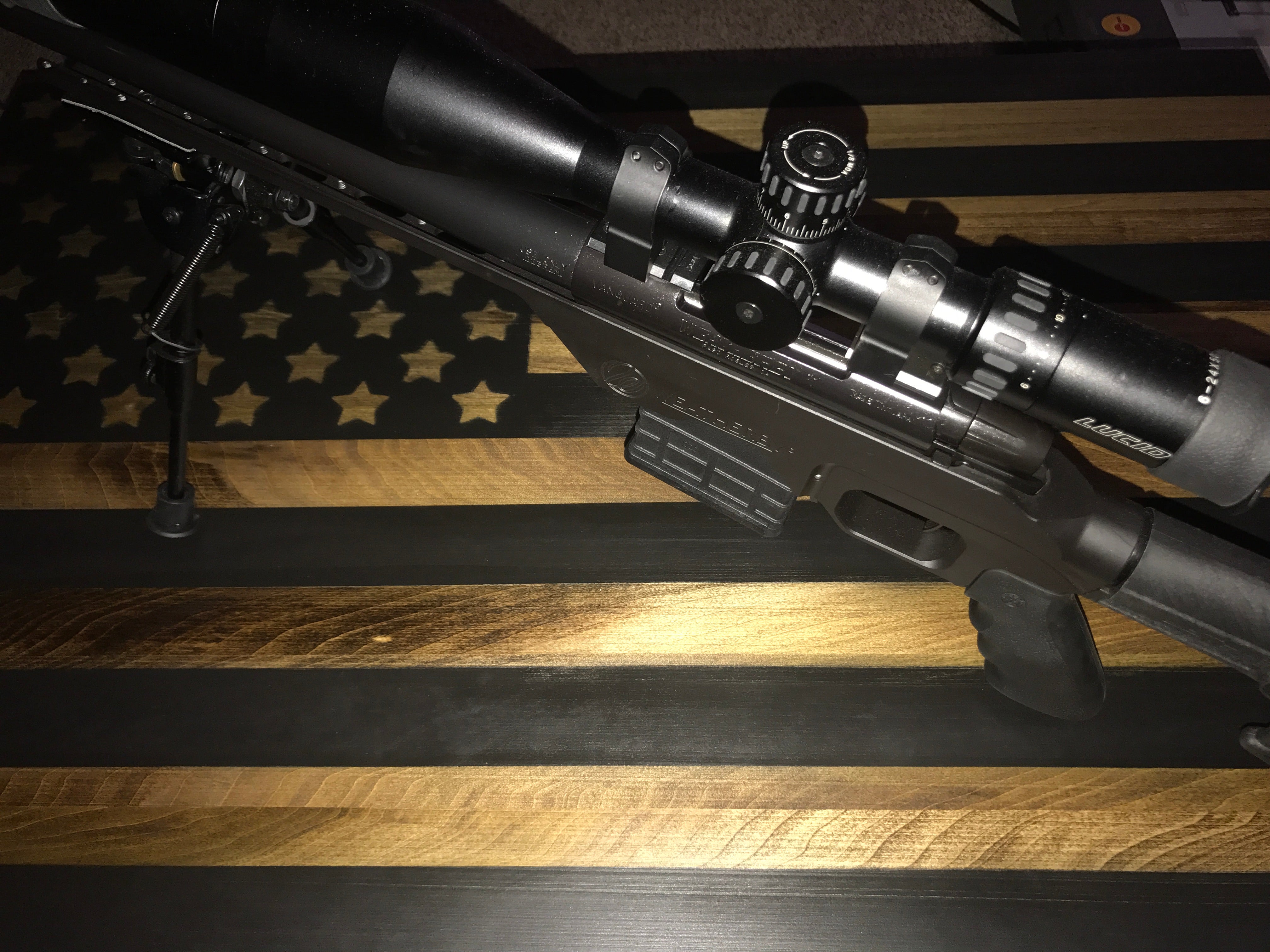 Other specs are:
The barrel is a cold-hammer-forged heavy-profile #3 barrel, guaranteed to shoot sub-MOA groups right out of the box with premium ammunition.
Match-quality, two-stage trigger is adjustable down to 2.5 lbs.
Matte bead-blasted barrel and action.
Three-position safety so you can work the bolt with the safety in the on position
Two 10-round detachable magazines are included
I also topped it off with a LUCID 6X24X50 scope (For the money you can't beat this scope).
I went with the .223 Rem because of the low cost to shoot, plus I have a lot of Berger bullets to load for this. My old Rem was in 308, so I wanted to see what I could do with the .223 as far as accuracy and distance when I start the loading for this. The one I load for the AR's will shoot in this but they are for a 16inch barrel and this Weatherby is a 22 inch.
I will post range photos and updates as the year & winter goes by so you can see just what I am able to get this monster to do!