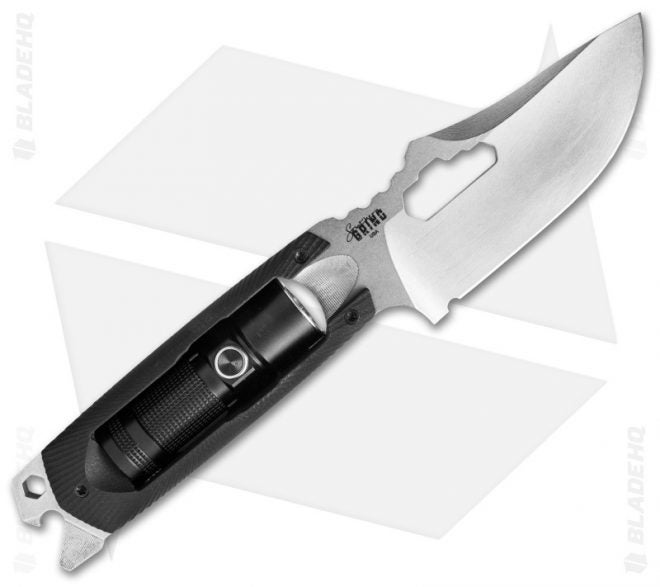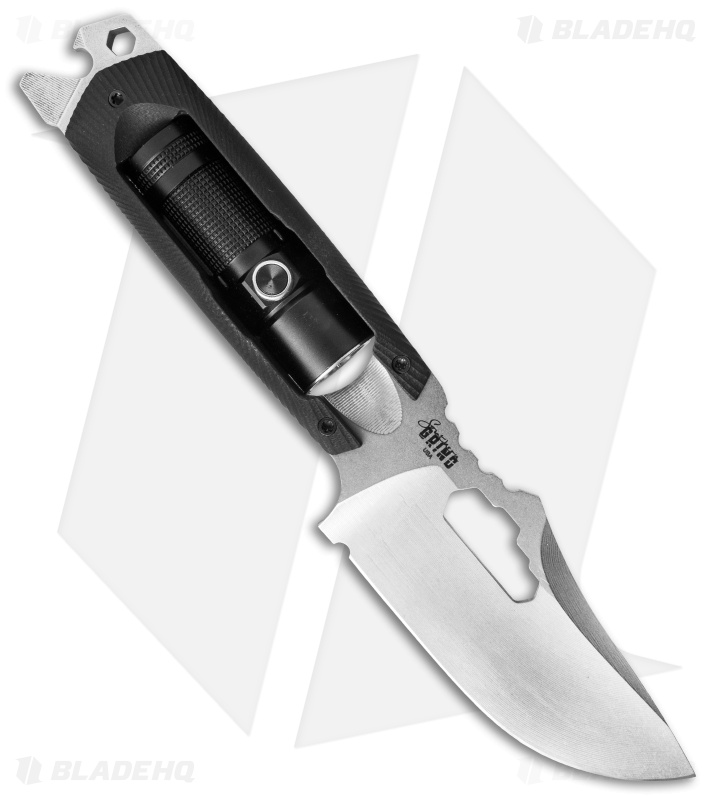 Are you old enough to remember TV/VCRs? Have you been to Boston and seen the Duck Boats? Are you still waiting for your flying car? Well, history has proven that these sorts of combination designs are usually pretty terrible versions of either thing they are trying to be. TV/VCRs were low-quality TVs with VCRs that seemed to break more often than standalone versions.
History is littered with positively horrific combo light-and-knife designs. There have been a metric ton of off-brand attempts at melding these two tools together. They were, universally, garbage, but there are a few real companies trying to make these tools. Victorinox makes a few Swiss Army Knives with LEDs.  Generally the LEDs stink and are woefully underpowered in comparison to things like your cellphone light (or a match, or a firefly). Heck, basically anything is brighter than these underpowered sources of illumination.
Then there were the fixed-blade flashlights from SOG. The Bladelights came in a few variations, some with white LEDs and others with red LEDs. These didn't suffer the same problem as the Victorinox, but they were a bit complicated. Having a knife you can pound on is one thing. Having a flashlight you pound on is another. Tool Logic makes a few different designs, all with substandard steel and underpowered lights.
The Southern Grind Rhino is probably the most compelling attempt at a knife/light combo. Southern Grind is Zac Brown's knife and tool company (the same Zac Brown of country music fame). He initially released a few folders, some fixed blades, and a big chopper. The Southern Grind lineup now includes a flipper and a smaller fixed-blade. But the Rhino is the most interesting product in their line up.


The Rhino is a D2 fixed blade with an open cavity in the handle that fits an S10 Baton flashlight from oLight. The knife has a number of other features including a pry, a screwdriver, a glass breaker, a box wrench, an oxygen wrench, and, of course, a bottle opener. The Rhino comes in at a very pricey $369.95.
Specs-wise, this is the most promising knife/light combo yet. First, you can remove the light and use the knife as you would any other fixed blade. This means you don't have to worry when doing hard-use tasks like batoning, where the shock of the process might destroy a light. Second, the S10 light is definitely not underpowered, offering plenty of lumens (400 or so). Finally, there is some added utility (however slight) in all of the little extras.
The drawbacks seem obvious. First, this is a costly piece of kit. A good fixed blade and a good flashlight together don't cost this much. You could have a Bark River Bravo 1 in 3V and the same light for less money. Second, although the light is detachable, what happens when the S10 is outdated? I don't know if the handle fits other S-series lights. And finally, the handle is tremendously wide, so it's not an ideal grip ergonomically.
In the end, a light/knife combo is a tool that seems impossible to do perfectly. Every iteration is a compromise, but this one has the best chance of succeeding of the tools we have seen thus far.