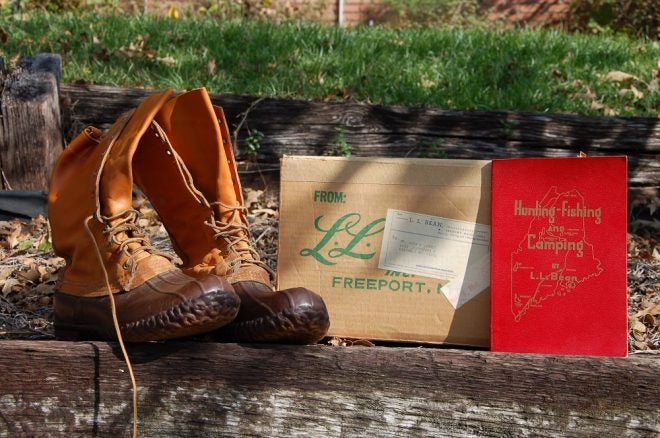 From time to time if you pay attention and look closely, you can find a real gem in a small-town used book store. I just made that discovery during a downtown festival. On the shelf of a tiny, jammed shop, I found a pristine copy of L. L. Bean's 1942 book, Hunting, Fishing and Camping.
This copy was the 1967 edition, the 22nd, of which 4,000 were printed in that year, originally selling for $1.00. That still makes this edition. for which I paid $8.00, 50 years old. I consider that a great deal on a piece of genuine outdoors history.
Incidentally, this book is currently available at Amazon.com as "a facsimile reprint of the original," currently priced from $12.81 to $34.95.
The book is only 98 pages long and Mr. Bean writes in the introduction that it should only take 85 minutes to read it. Interestingly, he includes three duplicate chapters at the end so a hunter could remove them from the book and take them into the field. Those chapters cover "How to Hang Up a Deer," "Signals for Hunters," and "How to Find a Lost Hunter." This book was written in Maine for local hunters, but Bean remarks that the book is useful for hunters everywhere.
As you may or may not know, L.L. Bean is world-famous for his outdoors boots, the essential "Bean" boot. I still have a pair my dad bought for my 23rd birthday in 1973. The postmark shipping was $1.45 from Freeport, ME, to Columbia, Missouri where I was in college.
Leon Leonwood Bean opened his flagship store in Freeport, Maine in 1912. To visit there is like making the trip to Mecca. I managed it in the 80's. The "Bean Store" is still the foundational outdoor sports store for hunting, fishing, and nearly everything to gear up for the great outdoors from hiking, canoeing, camping, and leisure living.
Today, Bean's clothing line may be considered a bit Yuppie, but their hunting and outdoors clothing has long earned a reputation for comfort and durability. Though the "Bean" look is favored by many who have never set foot in the wilds, for true woodsmen and women, Bean's clothing makes for tough wear at a reasonable price.
Bean's book is an earthy read for hunters, anglers, and campers. Remember it was written in 1942, but much of the basic information and skills discussed remain viable today. He covers everything from hunting deer, bear, moose, ducks, geese, and upland birds to hunting safety, multiple fishing species, and a wide discussion on camping. He even covers survival skills.
Some things never go out of style. Finding and reading L.L. Bean's book has been a treasure. Basic common sense woods lore never changes and thanks to Leon for reminding us.