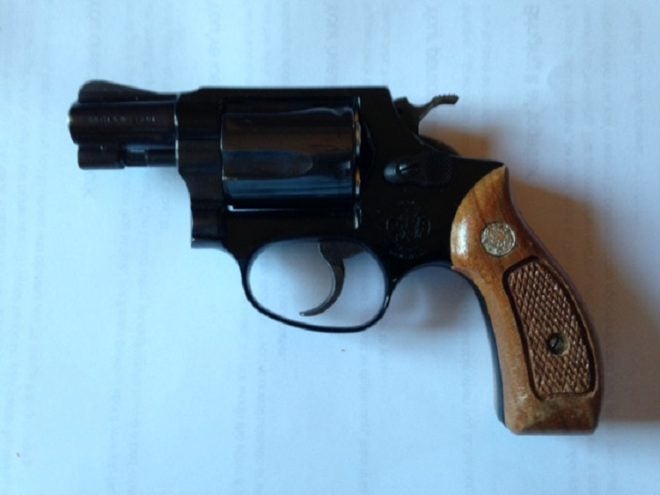 Goodyear tires has launched a new marketing program this college football season, entitled its Blimpworthy campaign to celebrate hard work, determination, and grit. Of course, this refers to the famous Goodyear Blimp flying over football games this fall, providing an aerial view of the stadiums and the game action.
Accordingly I thought it appropriate to designate my own personal list of handgun favorites by dubbing them "Blimpworthy Handguns." Because of the nature of opinions, the usual rule of thumb is that few others will agree since everybody has their own opinions. This is never more the case than when providing an individual's list of firearm favorites. If yours is not listed here, join the commentary section to vote for your own selections. We value all opinions here.
So, here is my own list of blimpworthy handguns, in no particular order. Each comes from more than 50 years of shooting handguns that certainly exhibit hard work, determination, and true grit. I hope some of these are your favs, too.
Smith and Wesson Model 29
What could be better than Dirty Harry's hand cannon? Chambered for the venerable 44 Remington Magnum, the Model 29 was produced from 1956 to 1998 in the original version, then an "updated" model was brought out in a "Classic" series. Available in Smith mirror blue, nickel, and later as a "6" series stainless model, with 4-6-6 ½- 8 3/8 inch barrels as well as other versions, the Smith 29 is definitely a classic.
Colt Python
Perhaps one of the finest, most beautiful handguns ever manufactured. Its unique shrouded ejector rod and vent rib barrel configuration provides an immediate recognition factor. Chambered for the 357 Smith & Wesson Magnum, the Python came in the deepest, richest blue finish I've ever seen on a firearm. Python barrels came in 2.5-4-6-8 inch with adjustable sights. Made from 1955 until 1996 in many versions including later a stainless model, "the snake's" action is one of the smoothest known.
Glock 17/19
What else can be said about these foundational Glock models? The 17 has a slightly longer slide/barrel than the 19, otherwise they are basically the same. Originally manufactured in Austria, they are now made in Georgia, USA. These base Glocks have been through several "Generations" with the Gen 5 just introduced. Chambered for the 9mm, this handgun is widely used by military, law enforcement, and private citizens, and is known best for its reliability.
Beretta 92
The U.S. Military choice to replace the Colt 1911, the Model 92 and iterations are chambered in the 9mm Parabellum. Originally made in Italy, 92s are now manufactured in the United States. Though soon to be replaced by a SIG, the Beretta 92 has been a proven pistol design, reliable, and easy to learn to shoot, if not a tad big on the grip side. The standard 15-round magazine affords the user considerable firepower in the field.
Ruger Blackhawk and Super Blackhawk
One might argue that this single-action revolver virtually replaced the Colt SAA as the strongest "cowboy" gun ever made. There are too many models, finishes, chambers, and versions including collectibles to mention here. The base standard was the Ruger Blackhawk in 357 Magnum, then later the larger Super Blackhawk in 44 Magnum. Ideal for plinking, target shooting, cowboy action, and hunting, Ruger Blackhawks are strong, well-made, and a joy to shoot if you like single action revolvers.
Smith & Wesson Model 36
This little "J" frame Smith and Wesson revolver is a 5-shot 2-inch-barreled pocket pistol named the Chief's Special. It was widely used by law enforcement, especially detectives needing a light hideaway gun. Chambered for the 38 Smith & Wesson Special, the Model 36 was handy and quick to point for close-quarters self defense. The 36 could be fired single or double action. It came with a round or square butt, blued or nickel finish, and production started in 1952.
Colt 1911 and Clones
If ever there was an iconic pistol in our times, the 1911 platform is it. Widely used in WWII and beyond, the Colt 45 ACP handgun was among the first big-bore semi-automatic pistols. The many versions and manufacturers defy coverage here. It has probably been the most copied and accessorized pistol platform in history. It is ripe for customization and tuning. Those of us who like the 1911 probably favor it among all other pistols.
CZ-75
This choice probably shocks a few. The Ceska Zbrojovka is manufactured in the Czechoslovakia (Czech) Republic and imported by CZ-USA of Kansas City. The Model 75 is a heavy-duty pistol chambered for 9mm or 40 S&W, handling 10-13-15 round magazines. The CZ-75 is weighty at 35 ounces with the 4.75-inch barrel. It can be found in blue, nickel, two-tone, and black polymer finishes with wood or high-impact plastic grips. You should check one of these out. It is well-made and -finished. The CZ-75 is one heck of a tank of a pistol.
Glock 43
All things considered in today's marketplace, the G43 is perhaps the best smaller concealment carry pistol available. It is a mid-small, not tiny, handgun chambered for the 9mm. The 43 is a single stack 6-round magazine pistol giving the handgun a thin, easy-to-grip profile. It is pure Glock, too. The 3.39″ barrel length plus a weight of 20.6 ounces fully loaded makes the G43 a handy concealed-carry option. Its black matte finish is non-reflective, and it's a cool pocket pistol.
Ruger Redhawk and Super Redhawk
Like the Blackhawk, the Redhawk also comes in a Super version. The base model Redhawk is a man-gun chambered for 357, 41 Magnum, 45 Long Colt and 44 Magnum in barrel lengths of 5.5 and 7.5 inches. The Redhawk weighs in at 52 ounces. Finish is blued, but mainly stainless. The Super Redhawk is primarily a hunting model in 44 Magnum or 454 Casull with 7.5 or 9.5 inch barrel with an integral scope mounting system. The Super weighs 53-58 ounces in stainless. These are truly "magnum" handguns able to handle stiff loads and harsh conditions.
Now, if I were to extend this number to a Tier 2 list, I would add the Colt Detective, the SIG 226, Ruger Single-Six, Kimber Solo, the Smith 57, Browning Hi-Power, the Smith Model 41 and the Smith 63. There are dozens of other blimpworthy handguns, so what would you add?