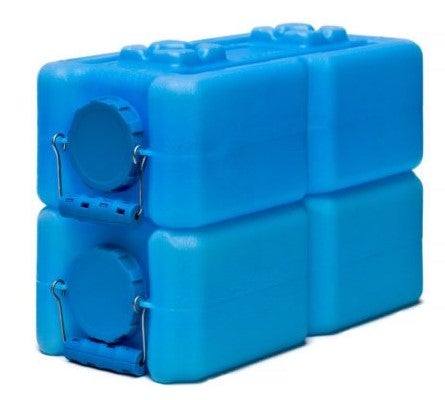 I'll admit it. I'm not much of a prepper. But while I may not be sitting on a stockpile of canned food and kerosene, there are certain essentials I like to keep on hand. Foremost among these is a healthy supply of drinking water. Bottles may be the most popular option, but I believe I've found something better: the WaterBrick.
Each of these containers is constructed of high density polyethylene (HDPE), with a wide-diameter lid and attachable handle. But the real selling point lies in their building-block nature. Per the company's website, this allows you to stack them "up to 4 feet for maximum efficient storage." This is important for apartment-dwellers like myself who don't have the luxury of devoting an entire room to survival supplies. They also reduce the pesky plastic waste of bottled water, which is a plus for me.
Personally, I opted for the 2-Pack of their 3.5-gallon models ($36). These arrived promptly and went straight to the bathtub for their initial wash and fill. After this was complete, I attached the included handles and lugged them to a closet. This is where they now reside, sitting atop a camp cooler.
I was initially concerned about leakage, so I tucked a large towel beneath the stack. This would make any escaping water clearly visible. That was several months ago and, despite moving the containers in and out of the closet several times, I've experienced no sign of seeping. In fact, it's probably about time to dump the old water and refill 'em.
Oh! I also purchased one of their spigots, though I've yet to use it.
I stopped at two for now, but others are a bit more ambitious. Here's a photo of another stash, posted on WaterBrick.org.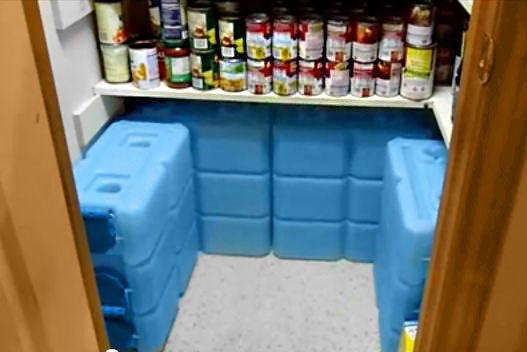 SHOP NOW
Will my pair of bricks keep me alive for months on end? No, but it's enough to make it through a several-day stretch. I feel this is a prudent precaution, given the fact that we're in a rather arid portion of New Mexico. Neighboring cities have had drinking water scares in the past, so this puts us a little ahead of the game.
Already set for water? The company also offers the
FoodBrick
,
AmmoBrick
, and
AutoBrick
. They come in several colors and configurations, and can even be used as building blocks for improvised shelters. Check out their
website
for tons of additional testing and information.