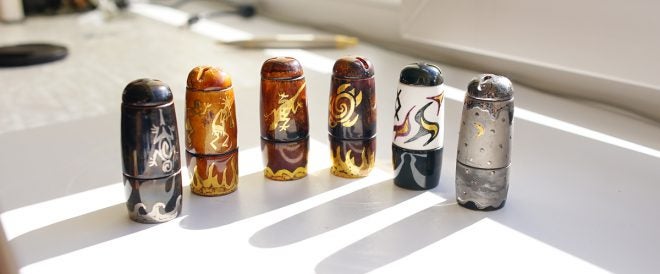 Ask a flashlight nerd, aka flashoholic, what the best light in the world is and he may say a good Surefire. If he is a bit snootier, he may point you to a McGimzo Haiku or a Muyshondt Aeon. If she likes the esoteric, a modded Lunasol 20, the Indium Smart, or a SPY 007 might come up. If he prioritizes the ability to be run over by a truck, he'll say an HDS Rotary.
Recently, high-end lights have become exercises in the skill of machinists. Jeff Hanko's designs, carved out of exotic metals like Zirconium, have become all the rage, though I am skeptical of their actual performance. For me, the current bar for flashlights is set by the Torchlab BOSS 35. This is an amazing all-around performer with a good body tube and the best light engine in the world. That light engine is courtesy of Lux RC, and if you want to see what truly next-gen lights look like, look to Lux RC. The craziest blank-check light from Lux RC was a run of torches called the Lux RC Artifact.  As at a fine restaurant, don't ask about price or availability.
I first heard of Lux RC while researching light engines (the combination of emitters and CPU which makes up the heart of a modern light). I found the FL33, a remarkable, expensive high-end light that was the first turnkey light product from Lux RC. If you wanted a Lux light and not just a few parts, this was the torch you had to buy. But it was hard to find and hard to buy, so I stopped waiting for them to be made in legitimate numbers and instead looked elsewhere in the flashlight world. Then about a year ago Oveready released the aforementioned BOSS 35 and again I took a deep dive into the world of brilliant Russian light designers and electrical engineers.
This led to the Artifact. Everything about the light is bonkers. First, they are made one-by-one with unique graphics, all designed to hearken back to the art of an ancient age. Second, they all run the newest, highest-powered light engine from Lux RC, cranking out 2500 lumens in a package the size of your thumb. Finally, they all have alumina ceramic bodies. This material is both extremely hard and good at dissipating heat. There are a few accessories; a magnetic lanyard attachment that allows the light to be worn around your neck, a wrist strap, and an upgraded head with an actual optic (the stock Artifact is a mule).
Setting aside price and limited availability, these look like some of the most unusual high-performing lights in the world. We are used to lights getting smaller and brighter, but this really resets the scale.  Add to that a truly unique look and body tube material and it's easy to see why Lux RC is making some of the best lights known to man.
Fair warning: I imagine these suckers get a bit hot on high, like sizzle bacon hot.