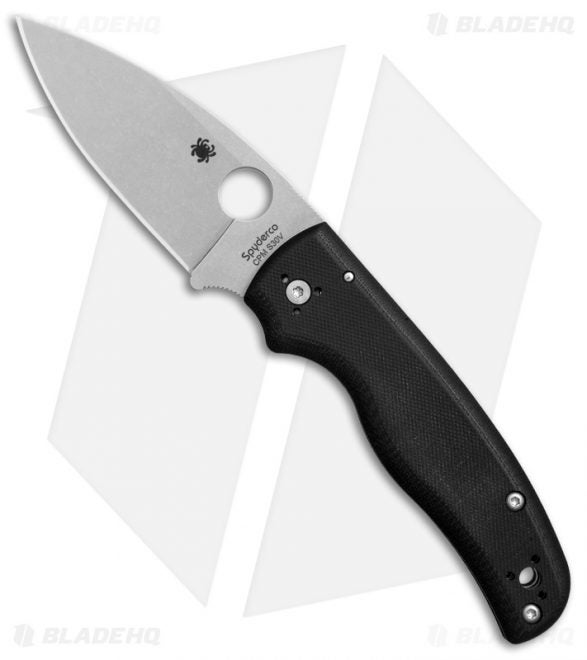 Spyderco has some of the best evergreen designs in the knife business: the Dragonfly, the Manix 2, the Paramilitary 2, and the Stretch. The Delica and Endura aren't terrible either. There are a few less-popular evergreen models liked by hardcore Spyderco fans: the Centofante III, the Caly3, and the Ladybug. Of all such enduring models, my favorite mid-sized design is the Native. The Native 5 in particular has proven to be a great iteration. Spyderco has treated us to a bevy of steels, from S110V to the reigning edge-retention king, Maxamet.
There a few reasons that the Native, while loved, isn't in the same echelon as other evergreen designs. It's probably a bit small for some. Its lockback design, which is fine, isn't as popular as other lock designs. And the FRN handle, which (like the lockback) is functional but not flashy. Steel aside, the Native isn't as trendy as the Paramilitary 2.
But these problems have been cured in the newest Spyderco release: the Spyderco Shaman. It takes the wonderful silhouette of the Native's humpless design and great ergonomic handle, and adds a bigger blade and a Compression lock. Those are the high points, the salesmen's pitch for the Shaman, but a closer look points to new ideas for Spyderco.
First, unlike the slab-sided PM2 or the pressed FRN of many evergreen designs, the Shaman has heavily-chamfered G10 handles. These handles echo the curves seen on knives like the Cold Steel Tuff Lite and make the Shaman much more inviting in the hand. The Shaman also sports something of a two-toned blade, with the grinder satin portion contrasting with the darker flats. Finally, it would appear that the Compression Lock is, like the Triad Lock in Cold Steel's line, starting to creep into more and more designs.
I am not thrilled about the exposed rear tang on the Shaman when closed. It is something of a pet peeve of mine to have a hard "pokey" part of a knife that you almost invariably run into when fishing for the knife in your pocket. It's weird to see it on the Shaman because it is nowhere to be found on the Native. I am also not thrilled about the inclusion of S30V. This is a steel whose name recognition has long been overstated when compared to its performance. Even the Native itself runs a better steel in the base version (S35VN).
Overall, the Shaman is an intriguing design. It's the love child of a Paramilitary 2 and a Native 5, quite the impressive combination. The rear tang and the steel leave something to be desired, but if you are looking for a medium-to-large Spyderco and can't bring yourself to buy a PM2 (or, more likely, you already own a few), the Shaman's fabulous handle and lock look promising. An S110V version with the Burple handles is a very enticing proposition.