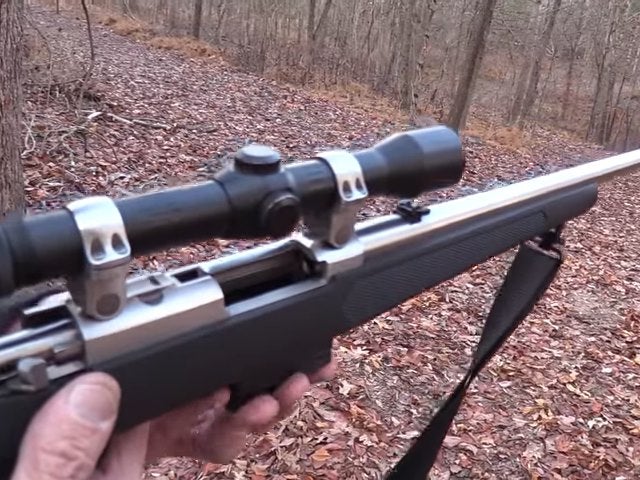 Hickok45 is at it again. This time he has a Ruger model 77 (chambered in 357 Magnum) at the range.
What is it about the 357 magnum that gives it longevity? Revolvers and cartridges like the 357, 41 Magnum, and 44 Magnum are relics from a bygone area, but for some reason they refuse to fade away. While the popularity of the 41 seems to have waned, the 357 and 44 magnum appear to be holding firm.
One of my esteemed colleagues wrote about a resurgence in the popularity of the 357 magnum.
Ruger 77/357 Specifications
From the Ruger website:
Barrel Length: 18.50″
Twist: 1:16″ RH
Capacity: 5
Overall Length: 38.50″
Patented integral scope mounts, machined directly on the solid-steel receiver, provide a stable mounting surface for scope rings, eliminating a potential source of looseness and inaccuracy in the field (scope rings included).
Three-position safety is easily accessible and allows the shooter to lock the bolt to load and unload the rifle with the safety engaged.
Detachable rotary magazine features a unique rotor to separate cartridges and provide reliable feeding. Mounts flush with the stock to eliminate protrusions at the rifle's balance point.
Now for the video.
On a personal note, I have always wanted a rifle chambered in 357 magnum, but have never taken the time to buy myself one.
When I was a kid in the 1970s, police officers carried revolvers chambered in 357 magnum.  There was none of this "9mm vs 45 ACP" stuff, because the 357 blew them both away.  As times do, things slowly changed.  In the 1980s, law enforcement agencies found themselves outgunned with 9mm handguns that held 15 rounds.
My dad, being the wise man he is, bought me a Smith & Wesson Model 66 Combat Magnum as a high school graduation present in 1986.
For the preppers out there, the 357 magnum is probably the best all-around handgun cartridge. There are rifle options such as the Ruger model 77, and countless used handguns on the market.
I might have to start keeping an eye on the local gun store. Maybe they will get a used Ruger Model 77 in stock?