North Korea's Nuclear Program Faces Setback
Kevin Felts 11.01.17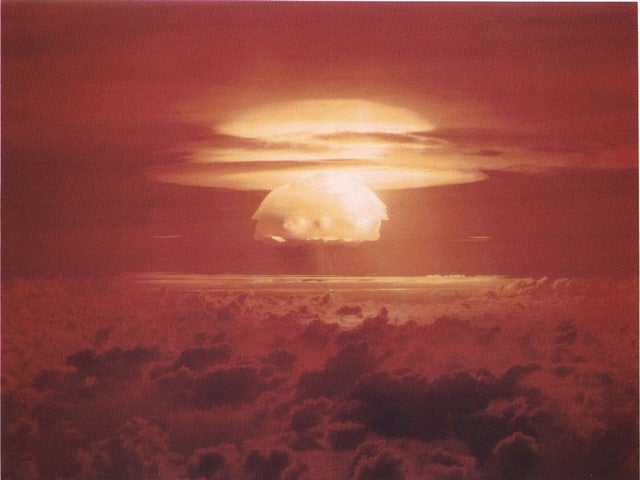 Things seem to have a way of working themselves out. In this case, global tension over North Korea's nuclear program just got a helping hand.
Anyone paying attention to the world news should know North Korea has been working on nuclear weapons. Hints have been dropped that N. Korea is even working on a Hydrogen bomb. This has caused increased tensions between the United States and China.
It appears North Korea's nuclear program has been dealt a deadly blow. Tunnels in the underground testing facility have reportedly collapsed, killing an estimated 200 people.
From the Express: North Korea nuclear disaster: 200 dead in Kim Jong-Un's missile test site accident.
North Korea's Punggye-ri facility has suffered a devastating collapse, leaving around 200 people dead.

Around 100 people were killed when when an unfinished tunnel collapsed at Kim Jong-un's main nuclear testing site.

Another 100 people subsequently died while attempting to rescue the first group of entombed workers.
Now for the bad news: scientists are concerned the collapse could spread nuclear fallout over the region.
From the same article at the Express:
China issued a dire warning to Kim regarding the state of the nuclear testing site.

They said a cloud of nuclear fallout could spread across "an entire hemisphere" if the facility collapsed.

The Chinese Academy of Sciences' Institute of Geology and Geophysics warned: "China cannot sit and wait until the site implodes.

"Our instruments can detect nuclear fallout when it arrives, but it will be too late by then.
Maybe it is time for China to step in and do something about North Korea? The situation has gotten so far out of hand, Southeast Asia is now concerned about nuclear fallout, and not a single bomb has been dropped.