Springfield Armory Unveils the SAINT AR-15 Pistol in 5.56 NATO
Adam Scepaniak 11.03.17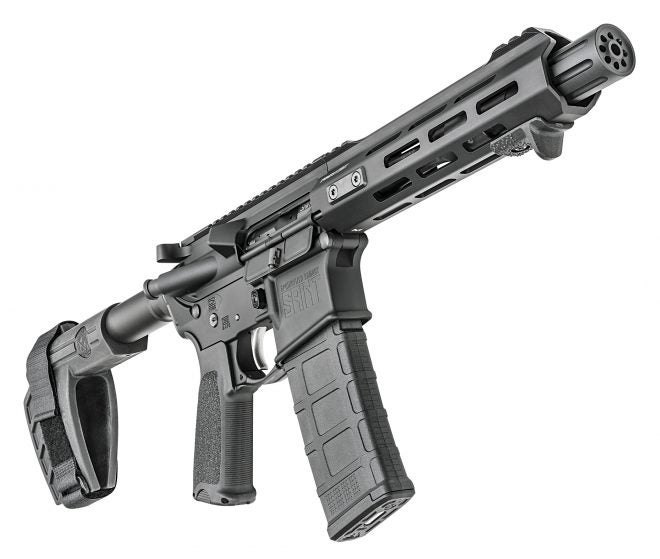 Springfield Armory has done a "first" within their company and lineup of firearm offerings. Their tremendously well-received SAINT AR-15 is now available as not only a rifle, but an AR-15 pistol. Much of the aesthetics and key components enthusiasts appreciated on the SAINT AR-15 rifle transfer over to the pistol as well. The components and features that remain the same are:
Caliber: 5.56 NATO
Trigger: Springfield Armory® (SA) Proprietary, Nickel Boron Coated GI
Pistol Grip: Bravo Company Mod 3
Trigger Guard: Bravo Company
Buffer Assembly: Carbine "H" Heavy Tungsten Buffer
Charging Handle: GI Style
Upper & Lower Receiver: Forged Type III Hard Coat Anodized, 7075 T6 Aluminum w/ Accu-Tite™ Tension System
Bolt-Carrier Group: Enhanced M16 BCG w/ Carpenter 158 Steel Bolt, Shot Peened & Magnetic Particle Inspected, Melonite® Finish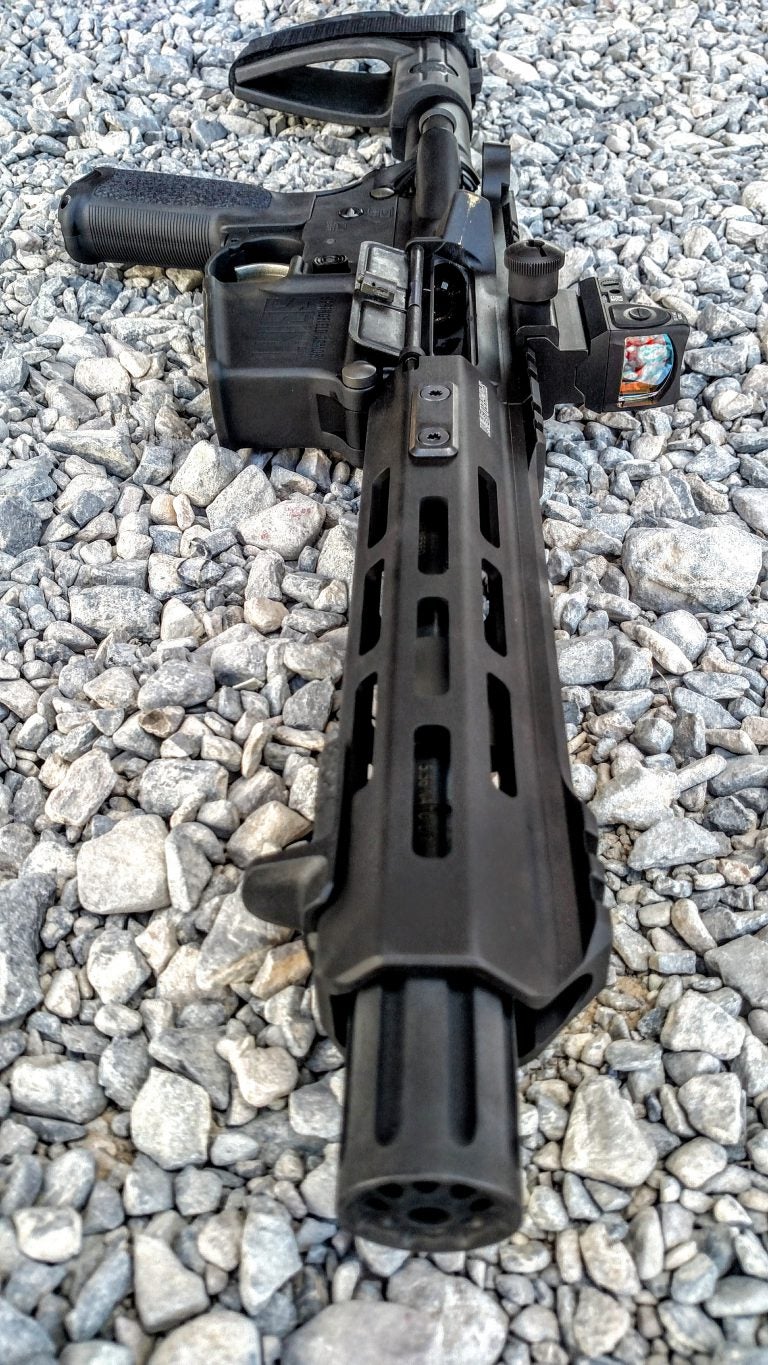 The weight of the SAINT AR-15 Pistol is a light 5 lbs. 8 oz. without a magazine. This is a pistol, so it is very compact at 26.5″ in overall length. The receiver end plate also features a QD Swivel mounting point to easily add a sling. The MSRP of the SAINT AR-15 Pistol is currently set at $989 making it an affordable, high-value pistol within the category of AR-15s. Some features that differentiate the SAINT AR-15 Pistol from its predecessor, the SAINT rifle, are as follows:
Barrel: 7.5″ 416R Stainless Steel w/ a 1:7″ Twist & Melonite® Treatment
Muzzle Device: SA Forward Blast Diverter
Gas System: Direct Impingement Pistol-Length Gas Port w/ a Low Profile Pinned Gas Block
Forearm Brace: SB Tactical SBX-K
It is important to note that the eye-catching (but utility-driven) SA Forward Blast Diverter is made of steel and not aluminum. This ensures strength and longevity in diverting the report, muzzle flash, and debris away from the shooter.
For those out there who may want to run this pistol with a silencer or other muzzle attachment of their choosing, the SA Forward Blast Diverter can be removed after you take off the SA proprietary Barrel Nut. The sleek, flush design of the barrel nut and handguard are great for shooters because they do not impede your ability to hold and manipulate the pistol. Once removed from the upper receiver, there will be flats exposed on the SA Forward Blast Diverter allowing you to remove the diverter and add a silencer or other muzzle device as long as it is small enough to fit inside the handguard.
The SAINT AR-15 Pistol also comes with a Soft AR-15 Pistol Case and one 30 Round Magpul PMag Gen 3 magazine. Springfield Armory has expressed their intentions to at some point in the future release a SAINT AR-15 Pistol chambered in .300 Blackout as well.
Springfield Armory CEO Dennis Reese expressed his excitement for their newest firearm:
The new SAINT pistol delivers high precision and proven AR-15 capability in handgun form… We're always looking for new ways to give our customers more shooting options, and more firearm for the money. The SAINT AR-15 Pistol does both, and then some.
The SAINT AR-15 Pistol is now available for consumers to purchase after being introduced on All Saints Day (November 1st). Once again, $989 is the MSRP of the SAINT AR-15 Pistol, but you may see street prices for this firearm fluttering below that.