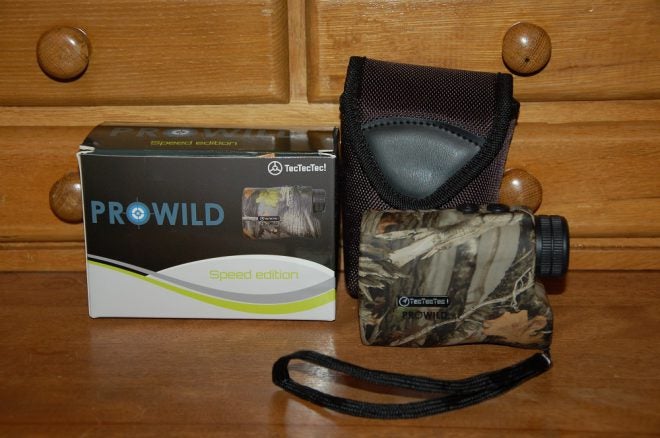 What is so miraculous about a rangefinder? Hunters, in particular deer hunters are notoriously lousy at two things. First is aging bucks on the hoof to know when to harvest a mature deer, and the second is estimating range distances to the target. Both of these take years of hunting experience to learn. Rangefinders now handle the target ranging.
The new ProWild Rangefinder by TecTecTec is the most compact and lightweight rangefinder I have ever used in the field. Its technology is simple to use, defying most conventional wisdom these days to make things much more complicated than they need to be.
ProWild's basic features include a compact package carried by an attached wrist lanyard. The exterior has a soft feel in a woodland camouflage theme. On the side is a turn screw covered port that holds one CR2 battery. The objective lens up front is 24mm and the magnification is 6x. The eyepiece is adjustable for focus.
When I said lightweight, I was not kidding. The ProWild weighs 185 grams or 6.475 ounces. It will easily fit into a shirt or pants pocket. Though the wrist lanyard is handy, I prefer a neck strap so the rangefinder can be dropped so hands can be used for aiming a rifle or handling a bow. The user can easily find a neck strap for this unit. The ProWild comes with a soft nylon magnetic closure case with belt loop.


On top of the unit are a "mode" button and the "start" or power button. The unit will power up in one second. The LCD display is read through the eyepiece of course, displaying the range in yards or meters as the power button is held down. Simply aim the unit at the target to range and get the read out. The ProWild can read ranges from 5-540 yards or 500 meters.
A word of use here, the unit is so light that it has to be held very steady to remain on a target long enough for the laser to read the distance. Users will learn to brace the unit in the hand for an accurate read. The range finding is instantaneous. Another mode in the unit can assess the speed of a moving target, but is likely not relevant to hunting.
The ProWild Rangefinder is a great little unit for bow and firearm hunters, golf or other uses. It retails for around $199, but I found it on line for $119. The ProWild is well worth the price. Check it out at TecTecTec's website.

SHOP NOW