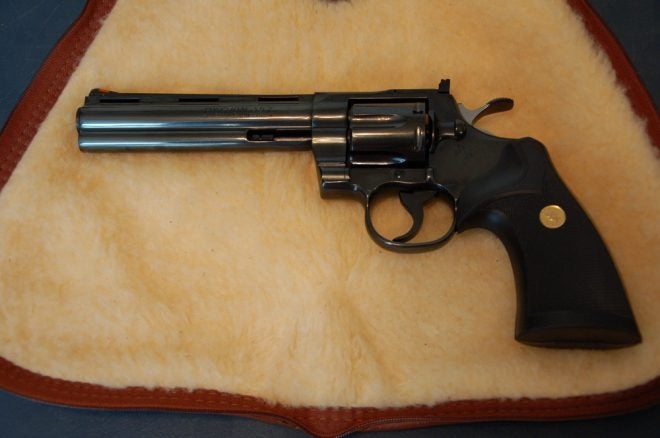 John J. Woods
Magnolia Outdoor Communications
THE COLT PYTHON
What other title for a gun article just about says everything for itself. In the modern age of handguns since say the .357 Magnum was made honest by ammo manufacturers, the Colt Python has been synonymous with collector furry and excitement. This is especially true since current collector values for Colt Pythons are 10x or more their original dealer retail prices.
Though the .357 Magnum was created in 1935, it took another twenty years for Colt to produce its "piece de resistance" or outstanding accomplishment in handgun manufacturing. It was an instant hit that continued from the factory for slightly over 41 years, with mainstream production ending in 1996. What a shame.
The original Python came in .357 Magnum, barrel lengths of 2 ½, 3, 4, 6, and 8 inches. Finishes included blue, Royal Blue, polished nickel, and satin nickel. The barrels had a distinctive vent rib on top and a fully shrouded ejector rod housing underneath. This design set the Python apart from any other handgun of its era.
The standard revolver was six shots, with a thumb released cylinder lock latch, adjustable rear sights, ramp front sight, and factory checkered walnut stocks with the gold Colt Medallion insert prior to 1991. Later models came with rubber grips with medallion inserts I believe to be Pachmayr grips, not Hogue as some references suggest. The Colt Python was one of only a few production revolvers that were all hand-fitted at the factory.
Pythons in 1955 originally sold for $125. Today's values exceed several thousand. I just saw a 4-inch stainless version at a recent gun show for $3400, used. The 2 ½ inch models hold the highest collector value with the 6, 8 and 4-inch models following. Current selling prices can exceed $5000 for certain models.
If you further research the Colt Python you will find many interesting details and variations including chamberings in .22LR, .22WMR, .256 Win Mag, .41 Magnum, and .44 Special. There was a Python Target model in .38 Special only. Other model variations include the 3-inch Combat Python sold to Lew Horton Distributors, a Python Elite, Ultimate Python, the Python Hunter, 8-inch, 2x Leupold scope and a Halliburton Aluminum case, the Python Silhouette, Ten Pointer, Grizzly, and the Whitetailer. I have never seen any of these but the Hunter model.
Pythons were also made in stainless steel for a while toward production end, but they never matched the interest as the blued versions. With its distinctive look, slick action, and perfect balance, and collector interest, it is no wonder the mystique of the Colt Python lingers on.