Compound Bow Comparison: Bowtech Reign 6 vs. Bear LS-6 + Video
Lucas Cooney 11.13.17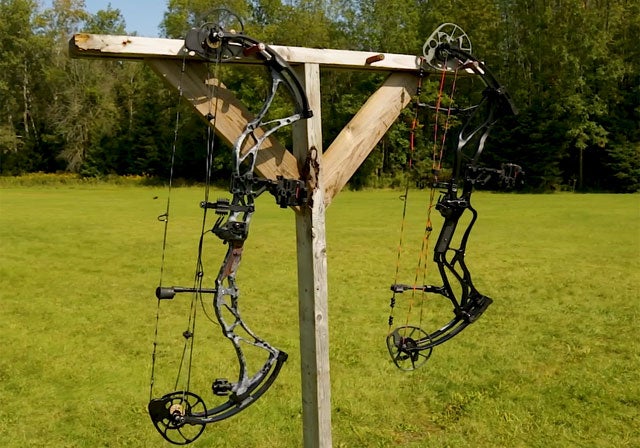 As part of our 2017 hunting bow project with sister site ArcheryTalk.com, which has included six individual bow reviews, we are doing some head-to-head bow comparisons. This week we see how the Bowtech Reign 6 compares to the Bear LS-6.
Both bows are outfitted with QAD Ultra Rests, Trophy Ridge React H5 sights and they share the use of a Bee Stinger Counterslide stabilizer.
Specs
The Bowtech Reign 6 has an axle-to-axle length of 32 5/8 inches, brace height of 6 inches, IBO rated speed of 350 feet per second and mass weight of 4.3 pounds.
The Bear LS-6 has an axle-to-axle length of 32 1/4 inches, brace height of 5 inches, IBO rated speed of 355 feet per second and mass weight of 4.2 pounds.
Speed
I ran each bow through a chrono set up with a what I thought was a 29.5-inch draw length, 60 pounds of draw weight and a 398-grain Gold Tip Valkyrie arrow.
With this setup, the Bear produced an average speed of 309 feet per second, while the Bowtech came in at 302 feet per second in the Performance setting.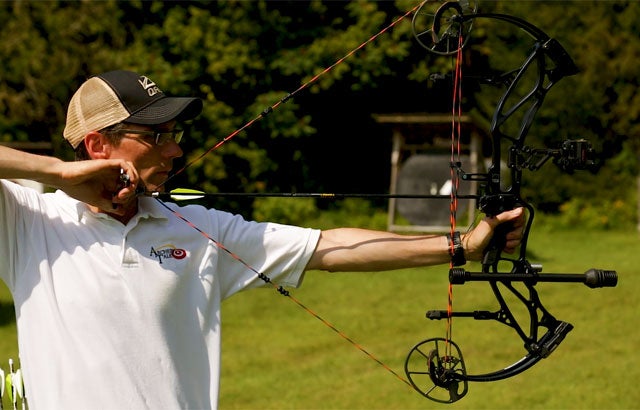 While this looked like a clear win for the Bear, when I eventually got each bow on a draw board the LS-6 came in more than an inch longer than the Reign 6. Yikes! I had to put the Bear LS-6 mods and stops into the 28.5-inch draw length settings, which dropped the speed a few feet per second slower than the Bowtech.
Draw Cycle
I'm not a big fan of the draw cycle either of these bows provides, but that's not entirely unexpected with bows offering up this kind of performance.
I'd give a slight edge here to the Bowtech. In the Performance setting, the draw is a little stiff, which I understand, but the dump into the valley is more severe than I like. Once in the valley things feel much better, as you can afford to relax and stay at full draw for a long while if need be. The back wall is nice and firm for a cable-stop bow and letting down is fairly aggressive. However, if you use the comfort setting instead of performance, the draw cycle smooths out a fair bit.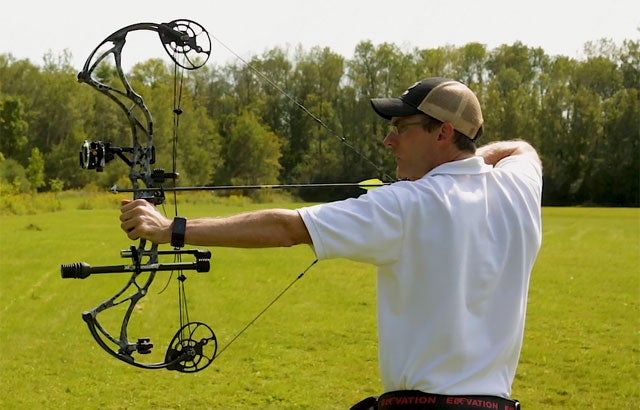 The Bear LS-6 also has a stiff draw, though it starts out fairly smooth before a somewhat harsh dump into the valley. I don't love how the bow feels at full draw, as the valley is very short and the bow only has 70% let off. You need to stay aggressive or the bow can get pretty jumpy.
Grip
When it comes to the grip, I give the edge to the Bear LS-6. The grip on this bow is nice and flat and fits my hand comfortably, though I don't care for the screws that stick out a bit on the sides.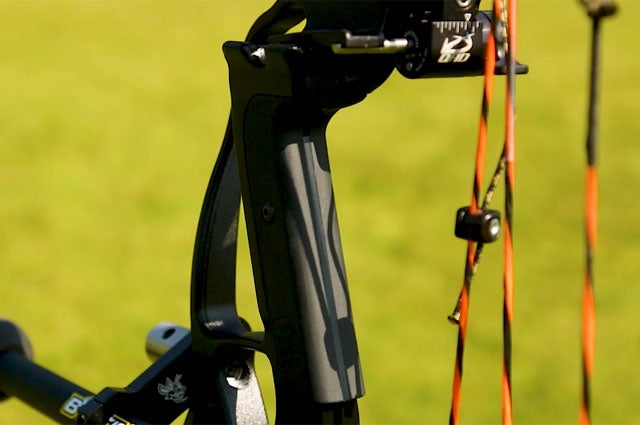 The grip on the Bowtech Reign is probably my least favorite of the six hunting bows I tested. It is rounded and quite narrow, and I've never been able to get comfortable with it.
Accuracy
I was initially concerned with how I'd handle shooting a bow with a 5-inch brace height, but the Bear LS-6 ended up being a pretty accurate shooter for me. Though I don't like how short the valley is, I think having to stay aggressive on the shot helped me group better. I was quite happy with the groups I was getting out to 40 yards.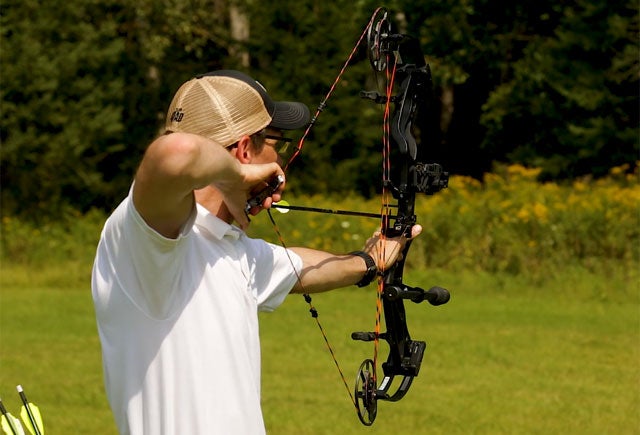 The Bowtech Reign 6 also led to some very good groups, but only when I was on point with my form and execution. Out to 60 yards I shot some of my best groups with this bow, but I also shot some of my worst. I can't really blame the bow for my failings, but I didn't find the Reign 6 to be as forgiving as some other bows I tested. However, if I had to take one shot at an animal with one of these two bows, I think I'd want the Reign in my hand.
Tunability
For my money, you can't beat a Bowtech for ease of tuning. The Reign 6 offers both top and bottom yokes for amazing control over arrow flight. It also has some very cool technology with the Micro Sync dial. This little beauty allows you dial in cam timing without a bow press. A couple of clicks on the top or bottom Micro Sync dial and you are good to go without having to make a trip to a dealer if you don't have a bow press.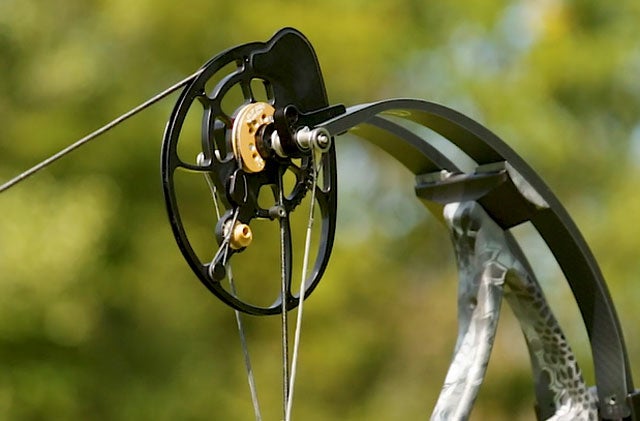 I have had a bit of trouble tuning the Bear LS-6. I've not been able to get very good tears through paper with this bow, but it's possible I may need stiffer arrows. Truth be told, if I had more time to dedicate to each of these bows I'm sure I could figure it out.
Fit and Finish
I'm impressed with the fit and finish of both of these bows, but I'd have to give the edge to the Bowtech thanks to the slick-looking Kryptek Raid Camo. Outside of a little serving separation on one of the cables, the bow is holding up really well.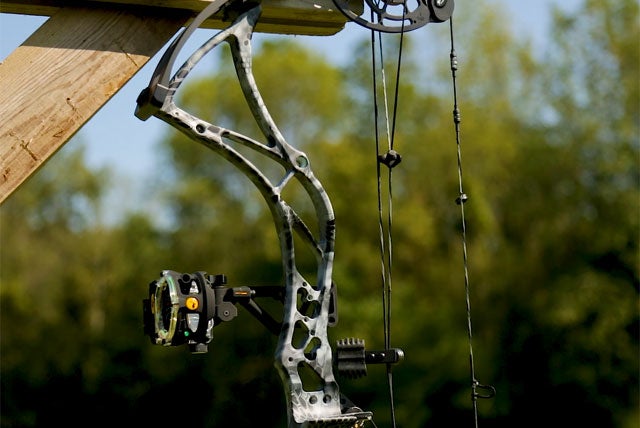 As for the Bear LS-6, I am a fan of the Shadow Black color on the riser, though the riser design is not my favorite. I am seeing some serving separation near the D-loop, but it's possible I just tightened it too much. Interestingly, my peep sight points to the left at rest and centers itself at full draw. It works, but it's a bit off-putting.
Price and Value
At $899, the Bear LS-6 is $100 cheaper than the Bowtech Reign 6, but I'm still going to give the Reign 6 the edge in value. Technology like the Micro Sync dials and Performance and Comfort settings are worth more to me than the $100 price difference.
Final Verdict
If I'm spending my money on one of these bows, I'm going with the Bowtech Reign 6. Outside of the grip and the $100 price hit, the Bowtech doesn't trail in any category for me in this comparison.