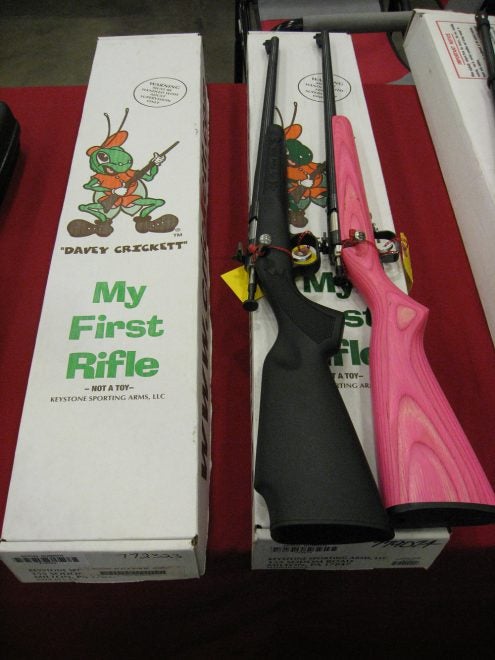 An ideal rifle to start youth shooters off with would be a single-shot 22 rifle. Among the choices for such firearms, the Keystone Sporting Arms Crickett is a best-bet buy. These rifles are geared for small people but offer full rifle features that are useful for teaching gun safety and practical shooting skills.
The Crickett comes in 22 LR or 22 WMR (magnum). The 22 LR version is great for kids or even an adult wanting a super-light, compact, fun rifle. The Crickett comes with a 16 1/8 inch barrel, overall length of 30 ½ inches, and a weight of only 3 pounds.
The Crickett comes in several stock styles including a satin finished walnut, wood laminates in eight different colors, a laminate thumbhole stock in nine colors, as well as synthetic stocks in seven colors including traditional camouflage patterns, pink, and pink camo.
The Crickett is a bolt action single shot rifle which has to be loaded and cocked each time you shoot it. It is a manual cocking rifle; you simply pull a cocking knob at the rear of the bolt. The safety is a rebound firing pin type. Trigger pulls are set at 2.5 to 3 pounds.
Sights on the rifle include a simple iron sight rear with a peep, and a ramp front blade at the muzzle. The Crickett can handle a small scope and factory scope bases and rings are available as accessory items from their web site at www.crickett.com.
Youth shooters as young as five years old can easily be taught basic firearms safety and proper rifle shooting techniques with a Crickett. The short length of pull and light weight are age-appropriate for both boy and girl shooters. Adult supervision is always recommended and should be required. Cocking a Crickett might require adult assistance.
The Crickett makes a perfect birthday gift for a new shooter. At Christmas time we sell many of these to parents and grandparents for kids to open on Christmas morning. The Crickett sells for less than $200. Shop the Keystone Sporting Arms website to see all the versions and stock color choices, then get your local arms dealer to order one.
And, you adult shooters looking for a fun plinking rimfire rifle that's serious enough for walk-and-stalk squirrel or rabbit hunting, the Crickett rifle is just the ticket.