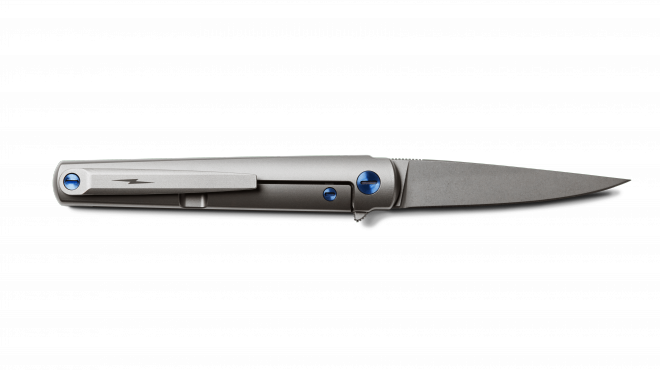 Both Shinola and Michael Zieba have interesting back stories.
Zieba is a knife maker from Poland. He came to the USA in 2005, set up shop in Brooklyn, and his knife making has taken off in the past few years. His designs range from the minimalist MS3 to truly quixotic pieces with beaks and curving plant tendrils as pocket clips. In my eyes, his knife designs are on the correct side of the line between quirky and gauche. Pushed a bit more and his style, as seen in some of his accessories, would fall into the Steel Flame/Starlingear category of skull-based man jewelry. Whatever one's opinion of his style is, there is no question that he has one and has it in spades. This is a man with a vision.
Shinola, likewise, has a distinct style. Their ultra-high-polish, curvy cases and classic watch designs look like a winner. Unfortunately, their reputation among the watch community has taken a few hits as they have had to retreat from their original pitch of "Made in Detroit." With a few caveats and word swaps we are left with "Built in Detroit." There are ellipses at the end of that phrase, as a close reading of their product literature will tell you. Their movements are built in Detroit from Swiss-made parts. The movement, which Shinola calls the Argonite movement, is based on the Ronda 5021.D quartz movement (see here for details). For the watch world, all of this language-finessing and parts-sharing leaves folks wondering if Shinola is a fashion watch brand or performance watch brand.
Fortunately, all of this comes together with Shinola's impeccable track record of co-branded items. They have proven over and over again, especially in their collabs with Benchmade, that they pick the best products for their audience. Even today the Shinola Valet is an excellent EDC knife and one of the coolest blades available in its size. Their Surefire co-branded light is great, and their turntable (which, like their movement, is heavily based on the work of another company) also looks killer. Shinola NAILS cobrands.
So when the MS3 was released, I took notice. This knife runs a blade of M390 steel, is a framelock flipper, and carries some beautiful design flourishes, from the cool lightning bolt on the clip to the stunning blue slotted screws on the pivot and the lock face insert. The entire design seems like a folder Bauhaus would produce. The materials and designs all belay its coolest feature–it is truly an EDC knife. With a blade of 2 5/8 inches and rounded handles, this knife should disappear in the pocket.  Finally, despite the wacky prices of some things from Shinola (like a $190 leather piggy bank), the MS3 is quite reasonable for its design and materials, coming in at $295, below the dreaded "Sebenza Barrier."
There are a few knives that try to hit this design: the Kershaw Leek and the Kizer Feist, but thus far, none have the strong visual punch of the MS3. Little wonder, given Zieba's prodigious gifts and Shinola's impeccable eye.