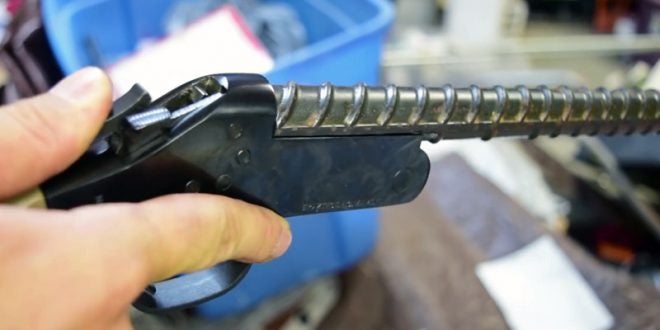 "Another YouTuber made a screwdriver out of some large rebar, and suggested that you could make a gun barrel out of some, so, I went and got some large rebar, and I think you know what I'm gonna do with it."
This guy, who clearly doesn't believe in wearing safe shoes when working his machinery, decides to whip up a barrel out of some concrete reinforcing bar, he drills it lengthwise for installing a rifled barrel liner, and then goes to work on the under-barrel block which will secure the barrel to the receiver of the single-shot break-action rifle (think H&R, Rossi, or New England Arms).
(I've been known to wear flip-flops while turning stuff on the lathe, so I'm not really one to talk about safe footwear.)
It's an interesting process and the result looks cool, but why oh why didn't he fire it for accuracy and dependability? Sigh.
What do you think of this?