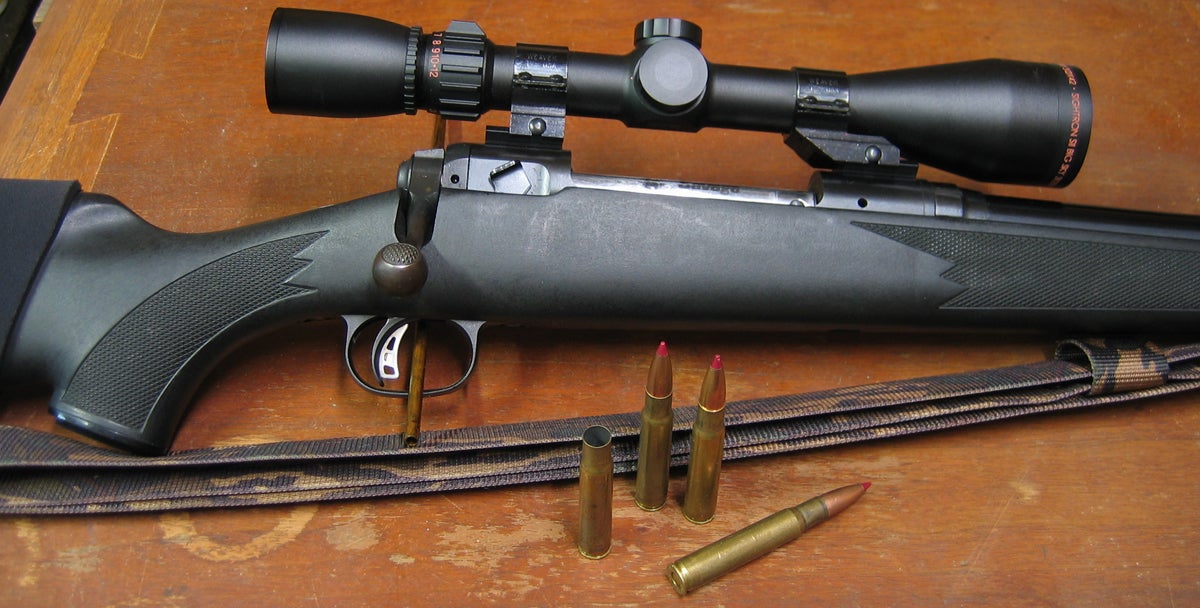 Back in 2005 when the 338 Federal hit the market, I thought it was the best thing ever. Since I don't have a bunch of dough to spend on rifles and ammo, however, I never did get my hands on one of my own. I've never been one to jump on the bandwagon of new cartridges "just because," but I like heavy bullets and fast bullets, and the 338 Fed put both into a short-action package. Me likey!
I never did end up with a short-action rifle I was willing to rebarrel, but I eventually did find myself in possession of a Savage 110 in 30-06 at a time when I was in between projects. What to do with it? My fantasy 338 Fed came to mind, but that doesn't make sense in a long action rifle, and after 5 years it was already fading from popularity anyhow. So why not go bigger and better? I decided on the 338-06, and from there the decision-making was plumb easy.

This was my first foray into changing out a rifle barrel, so it's natural I started with a Savage. Their locknut system of headspacing makes barrel swaps relatively simple.
For the barrel I turned to Brownells, and found an E.R. Shaw barrel kit which included a heavy magnum-contour 24″ barrel, a locknut wrench, a tube of Uncle Ed's Bore Paste, a plastic bottle of Uncle Ed's Premium Gun Oil, a go gauge, and a no-go gauge.

When the package from Brownell's arrived, the barrel was sticking out of the box. Fortunately, this box was inside another box, which the barrel didn't penetrate. My first impression of the barrel was, "Man, this thing is heavy!"
My kit, which was ordered and received in 2010, had most of the stuff required for swapping a Savage barrel, but the locknut wrench had knife-sharp edges which would have surely cut anyone trying to use it without gloves. This required some time with a file to remedy.
The barrel itself looked great. I was thoroughly impressed with the blue, the bore, the crown, and the chamber. It had a one-year warranty, which I probably voided when I chopped off the end of the barrel.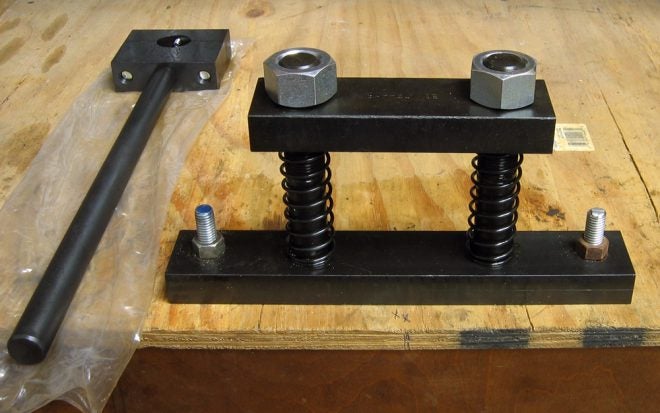 I ordered a Wheeler Engineering barrel vise and action wrench elsewhere… but if I had it to do again, I wouldn't order the action wrench. I didn't need mine, and it wasn't a good fit with my receiver anyhow.
I used 1/2″ bolts to mount the vise to my workbench. This vise is not fancy, but it is pretty beefy.
The action wrench (left) said it would fit Remington 700s and Savage 110s, but it didn't fit my Accutrigger-equipped Savage and I didn't use it. But judging by my experience, you DO need a barrel vise for a project like this.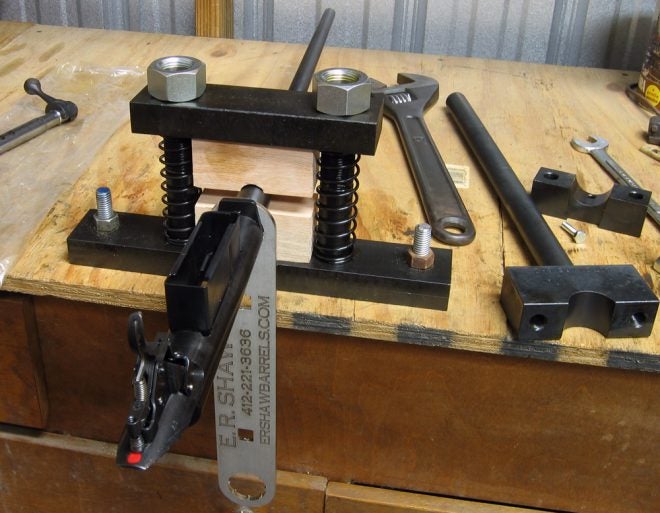 Before you chomp down on the barrel with the vise, carefully slip the locknut wrench over the barrel and onto the nut — and make sure you are using the correct end of the wrench. Some locknuts have rounded grooves and some (like mine) have square grooves for the wrench to engage.
I hadn't yet tightened up the barrel vise. When I did, I tightened those large nuts a little at a time, alternating from right to left, using that big adjustable wrench.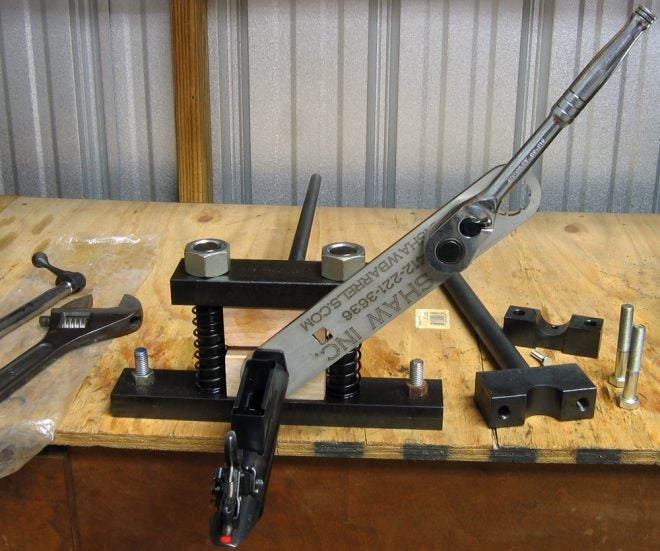 The wrench has a square hole for a 1/2″ ratchet or breaker bar, so I tried that at first. This didn't give me enough leverage to break the nut free, but it did make the barrel spin in the wood bushings of the barrel vise.
After trying repeatedly and tightening up the vise a lot more, I finally removed the ratchet and hit the wrench with a wood mallet. This sudden shock was enough to break the nut free so I could thread it forward on the barrel. Then all I had to do was unscrew the receiver off the barrel.
(Continued)