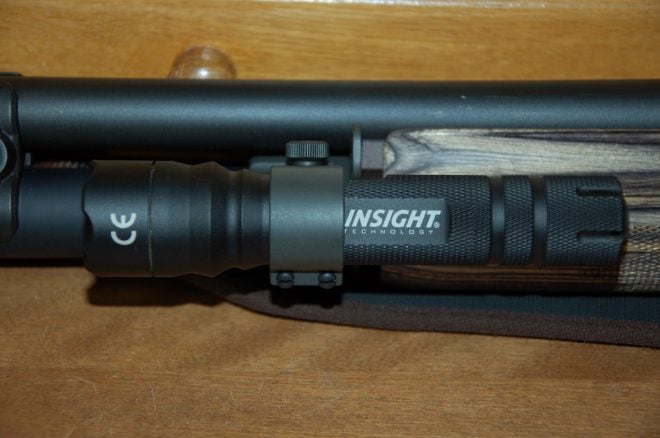 While the argument continues on how many accessories to hang on a firearm's Picatinny rails, some items can be of particular value. Part of the allure to some types of firearms is the fun of customizing it to personal preferences. For the companies that create and sell these rail accessories it is big business. It seems like something new comes out nearly every month.
Even many pistols come from fresh from the factory with a rail mount under the barrel housing. Most often, this is for a laser or flashlight. Some models like the Smith and Wesson 380 Bodyguard have a built-in laser. Other models like some Kimbers come with laser activated grips. It's in vogue.
So, what about shotguns? In this case we are talking about tactical, home security, law enforcement, and self-defense shotguns–not scatterguns for hunting. The main application we are thinking of here is a shotgun used by a homeowner as a principal home defense weapon. Does such a gun need a light?
Most people would immediately say something like "Well, why not?" That is the whole point in the final analysis. An add-on accessory like a high beam flashlight is thought to be mainly deployed in the nighttime, right? Well, darkness might also be down the hallway in a house or back room. What if the threat is in the garage, basement, or even the attic during daylight hours? For these situations, a flashlight mounted on the gun becomes not only a neat accessory but perhaps a vital one.
There are many ways to mount a flashlight on a shotgun. Some new tactical shotguns come with built-on rails for easy accessory mounting. However, if you happen to have a plain-Jane shotgun, a variety of mounts can be found for mounting a flashlight.
We all have our favorite brands of accessories or add-ons. Mine happens to be GG&G. Their accessories including light mounts are extremely well-made, matte finished in durable coatings, and rugged as heck.
Whatever brand you choose, make certain the mount fits the light you have, as flashlight tube sizes vary. Also examine the different ways to switch lights off and on.
A flashlight on a shotgun is a good accessory to have for sure.