The Colt Frontier Scout 22 Magnum in 5 Photos
Russ Chastain 11.28.17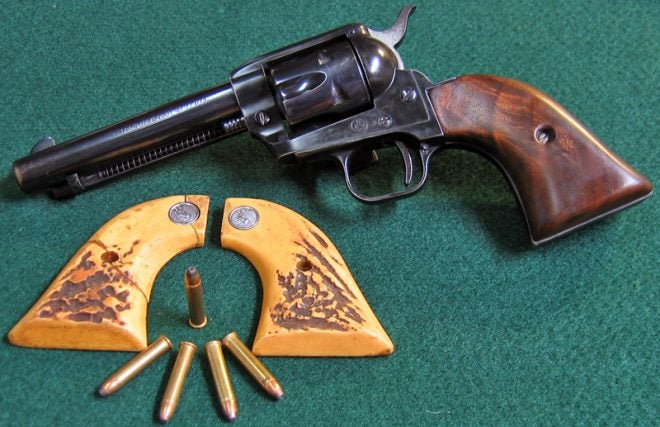 Introduced in 1957, the Colt Frontier Scout was a single action revolver aimed at satisfying Americans' hunger for the Old West. Ruger's Single Six had hit the ground running when it had come out a few years earlier, and Colt wanted to get in on that action. While their price was higher than Ruger's, Colt was banking on its legendary name to attract buyers who wanted something closer to "the real thing."
The Scout line of revolvers were alloy-framed SA wheel guns designed to fire 22 rimfire ammo. Some were chambered for 22 LR; others for 22 WMR (magnum), and some made after 1964 even came with two cylinders so you could swap between the two. It enjoyed some success, but by 1970-71, the Scout line was quietly retired.
The one shown here is a "'62" model, which naturally was introduced in 1962. Its original grips were made of Staglite (imitation antler), but they were warped and cracked during a hot ride under the seat of a VW Beetle. I made these walnut grips at age 18.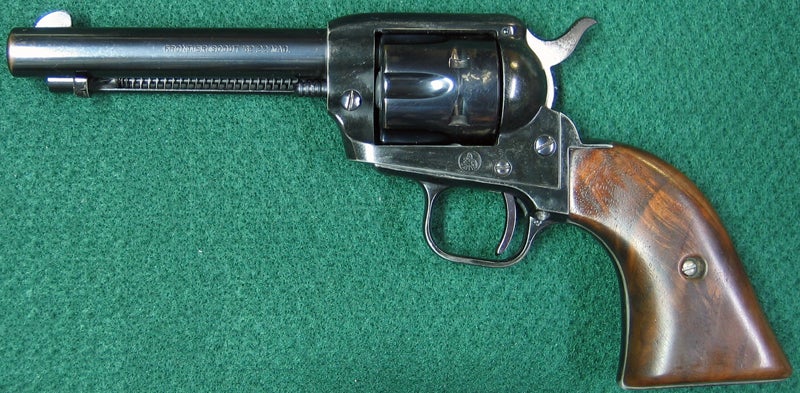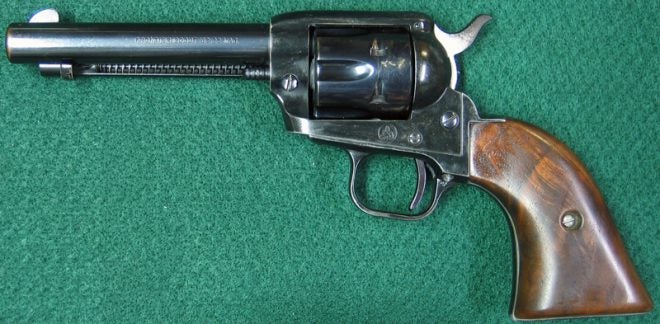 The hammer, barrel, cylinder, trigger, and most internal parts are made of steel. The frame (including the grip frame) is made of Zamac, an aluminum alloy. This one is a 22 magnum version.
The left side of the frame bears the classic Colt "rearing horse" logo, and on the left side of the barrel is stamped FRONTIER SCOUT '62 .22 MAG.
This old classic has been carried and used quite a bit, as evidenced by the worn bluing at the muzzle.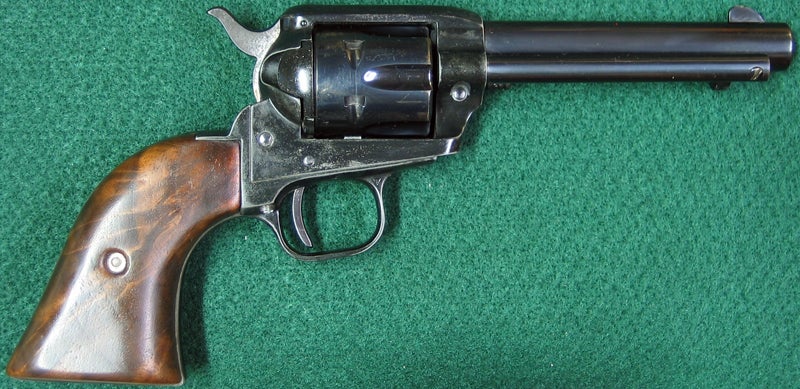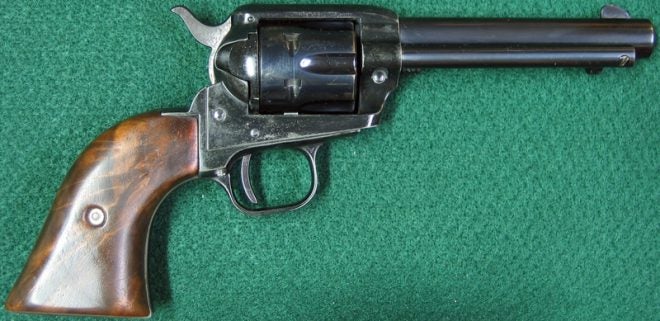 The only visible markings on the right side of this old popper are the letters "VP" inside a triangle at top front of the trigger guard.
Originally, the alloy frame was painted. By the time I got it decades ago, the paint had begun to blister and peel. I used chemical paint remover to strip off the old finish, then refinished it using Birchwood Casey Aluminum Black. This has held up reasonably well for what it is, but as you can see, it's not the toughest stuff around.
I've tried to use the same Aluminum Black on an older Scout, but the alloy is apparently different because it had no effect.
This slick old wheel gun has ridden on my hip for many miles in the woods, and I don't bemoan the flaws in its finish. Like my late father, I simply call them "character marks."


As with many SA wheel guns, you can't aim with the Scout's sights unless the hammer is cocked… and as you can tell, the sights are rather crude. There's a simple blade sight up front, and a groove machined into the top rear of the frame is all you get for a rear sight.
My handmade walnut grips aren't perfect, but they fill my hands well and since I made them as an unskilled teen, I think they're pretty wonderful. I purposely left them considerably thicker than the originals, and I've never regretted that; a handgun grip belongs to fill a man's hand.
"COLT'S PT. F.A. MFG. CO. HARTFORD CT. U.S.A." is stamped atop the barrel.


The bottom of this grip frame ("backstrap assembly" per Colt) has some scrollwork; not all did. You can see the appreciable wear on the Aluminum Black finish.
This 22 WMR (Winchester Magnum Rimfire) revolver is one loud son of a gun. I swear it's louder than a 357. And while it's possible to fire 22 LR ammo in it, that's a bad idea. The 22 WMR is slightly larger, so LR cases are apt to split and accuracy will probably stink because the bullet won't properly fit the barrel's rifling.
I gotta be honest here; I wish I was more accurate with this old revolver. The sights ain't much, and I've never been able to do that well with it. It does have a great trigger pull of 3 to 3.5 pounds.
The serial number is stamped on the bottom front of the frame.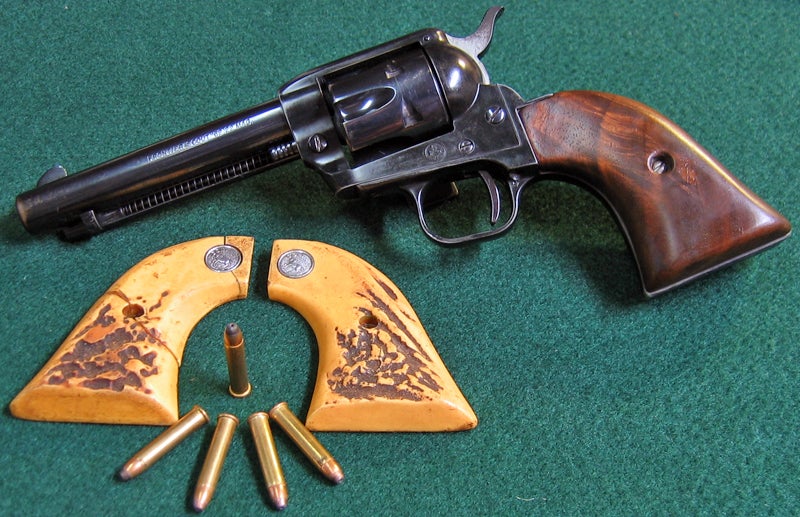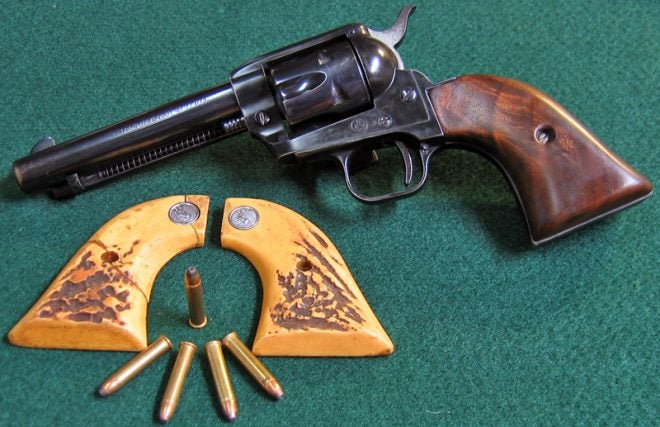 Colt said the Scouts came with barrels of 4-3/4 and 9-1/2 inches, but they usually measure about 1/16″ shy of spec. Long-barreled versions were marked "Buntline Scout" (sans Frontier), but can often be found listed under Frontier Scout in gun books.
This is anything but a target gun, but it's still capable of producing a ton of fun. The best part is that it's well-made and reliable, and it's never failed to go bang when I've asked it to.