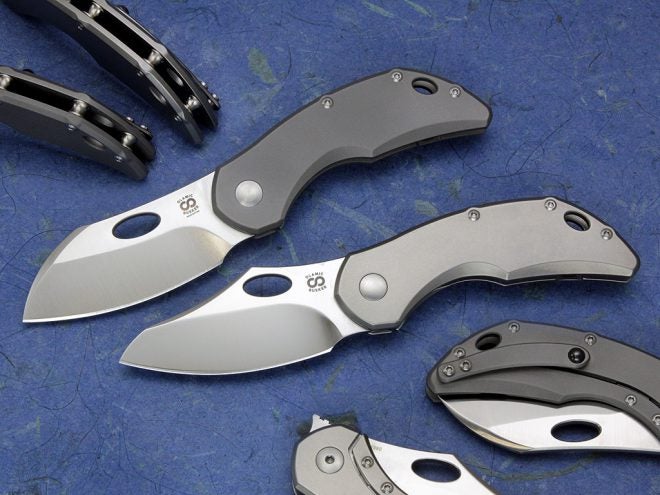 Olamic Cutlery has been something of a drummer marching to its own beat in the knife world. Are they customs or midtechs or production knives? Yes. What? It's hard to explain. There are full custom Olamics, but the vast majority of their knives are batch-produced designs. You also have the option of getting any number of tweaks, upgrades, or modifications. In the end their motto, "Never the same," couldn't be more apt.
For a long time, though, Olamic has tended to produce larger knives. The Wayfarer–their most famous knife–is a very big 3.5″-bladed knife. Their Swish is even bigger. Their other knives (fixed blades) all come in unmodest sizes. This is all well and good because their modifications and design tweaks all fare quite well on big canvases. You can find Olamic knives with bands of Moku Ti, dozens of holes, or alternative color schemes and anodizing. The flipping action on every Olamic I have handled has been great. In short, they make good, big knives.
But I am not much of a fan of big knives, in general. The Wayfarer was awesome, truly great, but I yearned for something smaller with that same design panache. Eugene et. al. have finally heard our clamor for a smaller blade, and this year they are releasing the Busker.
The Busker is a knife with a 2.3 inch blade and weight of 2.99 ounces (still, not a three-ounce blade).  It runs M390 steel, has a bearing pivot, an overtravel stop, and a clip with a bearing roller. It deploys via either a thumb oval or a front flipper. There are currently two blade styles: one with a thumb ramp (the Semper) and one without (the Largo). Both look amazing.
On paper this scratches a lot of the itch that Olamic fans like, but with a smaller footprint. In particular, this looks like the first Olamic knife that could comfortably fit in a coin pocket. I also like the curved handle and blade shape–this is excellent way of packing in the inches without making the knife feel HUGE. I also like the look of the lockbar–it's like nothing else out there. Finally, I would be remiss if I failed to point out the front flipper. I have long believed that this deployment method is woefully underrated in the current market, and this appears to be an excellent iteration of the front flipper.
Usually I conclude these "One to Watch" posts with things to look for in the design that might be issues, but here I can't think of anything. Even the price, which is above the Sebenza barrier, is commensurate with other designs of this quality and materials. I guess if I were forced to pick one thing, it would be the blade shape. I have a small preference for the Largo over the Semper, but really it is about as small a preference as can be put into words. This looks like a home run for Olamic and a sign that, a few years into this project, they are just starting to stretch their legs.