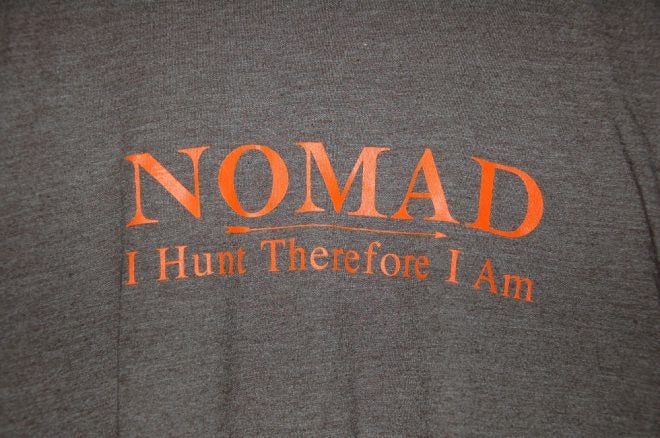 John J. Woods
Magnolia Outdoor Communications
NOMAD
"A person who roams about; a wanderer; having no fixed home moving from place to place in search of food (and water and grazing land)." That defines a nomad. Do you suppose then that is what Marolina Outdoor Apparel had in mind when they created their Nomad line of performance outdoor hunting clothing?
Just to prove that a blitz marketing campaign does work, turn on just about any outdoor hunting television show now to see what a lot of the hunters are wearing. Turns out it might be a Mossy Oak, Realtree or Kryptek pattern, but it's likely wearing the logo Nomad, most often in bright orange lettering so it will be noticed. That is smart business.
Trust me it is not just about a name plastered on some outdoor hunting garments that don't really stand up to the elements. There are plenty of those out there now sharing a name with athletic wear, football, soccer shirts and such. For them it is apparent that the hunting industry was a second thought. This is not the case with Nomad Outdoor Clothing.
Ok, smart aleck you'd say, so how do I know this? Well, because I have a set of Nomad hunting clothes that have been in field trials now for quite some time. It has worn well, has not fallen apart, and is holding its earthy Mossy Oak pattern crisp and clear. Those elements are the primary criterion I use to judge outdoor clothing that I will wear to hunt. If it fails to perform or loses it pattern through washings, I am done with it.
Nomad outdoor clothing's offerings are deceptively simple. There is no huge catalog here with tons of garment choices. In fact, to my own surprise, there is not even a traditional button up front men's shirt as nearly every hunting camo clothing line has. They offer jackets, hoodies, t-shirts, short and long sleeve, hunting pants, and accessories. My only disappoint is with their basic hunting pants. The size is too small, cargo pockets too small, and the rear pockets are not secured with a button flap.
Right now Nomad comes in three popular camouflage patterns including Mossy Oak, Realtree and Kryptek, which is well, kryptek, a word not even found in the English dictionary. If it were, it would be right behind the term Krugerrand, the South African gold coin. Hmmm.
You're going to see Nomad clothing when you shop this fall for hunting clothes. You likely will see it in deer camp, too. It may be new, but it is already that popular.