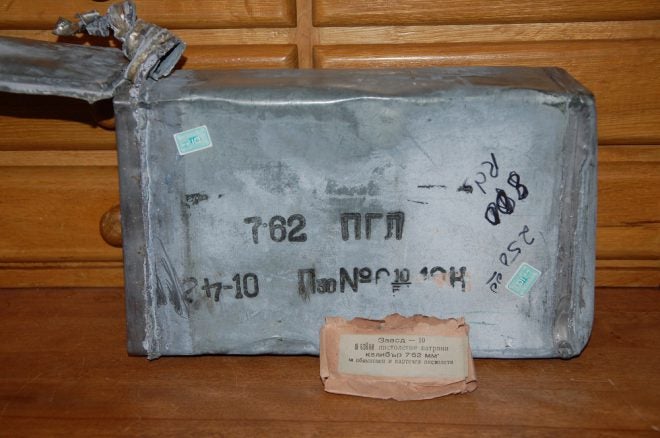 During World War 2, it was a common practice among Eastern European and Russian ammo manufacturers to seal paper cartons of ammunition inside metal containers. Presumably, this would prevent moisture contamination and allow the ammo to endure long periods of warehousing. Apparently this system worked pretty well, because this ammo is still showing up in the USA.
Case in point: A recent gun show I attended, where I witnessed an ammo dealer peeling open a canister of such ammo like opening a can of sardines. He had a metal key with a slot that fit into the can just like a tin of tiny fishes. He turned and turned until the seal was completely removed from the entire circumference of the metal container.
What was revealed inside were boxes of brass-cased ammo wrapped inside small paper boxes holding maybe 50 rounds each. While the paper boxes were beginning to fall apart from long term storage, the ammo appeared to be just fine. The brass was fairly bright and the jacketed bullets were in good shape, too. And they hadn't even turned green.
On the exterior of the metal container were a number of markings in Russian. Numbers on the box included one date that may be interpreted as 10-42 but the numbers were backwards. A 7.62 marking was clear, followed by what appeared to be "MM." The dealer had marked 800 rounds on the box with a price of $250. Once empty, he gave me the box to investigate further.
I assumed only the dealer knew for sure what the ammo was, so I had to ask. He told me it was Russian ammo for the 7.62×25 Tokarev pistol. He thought the ammo was made in 1942. That would have been before WWII ended. One paper wrapping left inside the box was labeled entirely in Russian, except for 7.62mm.
The 7.62×25 was chambered in the primary Russian handgun of WWII — the Model 1930 Tokarev. These handguns from the famous Tula factory were made from 1931 until 1942. The gun itself is somewhat similar to a Colt 1911 with several so-called "improvements." It was the number one official Soviet pistol cartridge.
The standard load was an 87-grain FMJ bullet with a muzzle velocity of 1390 fps and a muzzle energy of 365 foot pounds. The cases were Berdan-primed.
So, ammo produced in 1942 and sealed in metal containers with lead-soldered seams can still be fired today in old Tokarev pistols, which can still be found as war surplus. Just an interesting note of history.