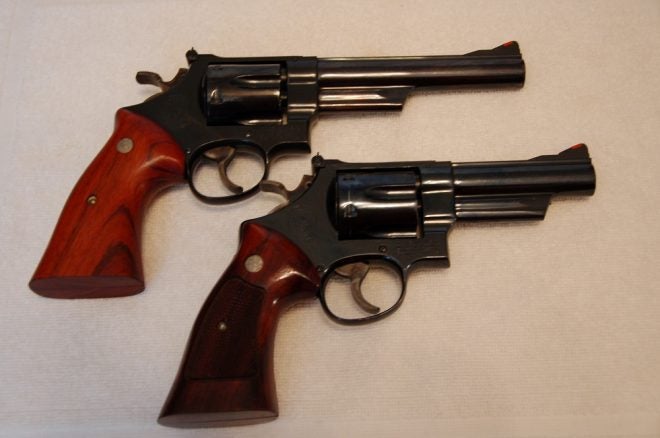 In 1964 Smith and Wesson introduced their excellent large "N" frame revolver in .41 Magnum. The new revolver was designated the Model 57. Its official catalog title was the ".41 Target Magnum." As Smith and Wesson aficionados know, the "N" frame is he benchmark for some of the finest double action handguns ever manufactured.
The original "N" frame production of the Model 57 ran from 1964 until 1993. Models with the "S" prefix ran from 1964 until 1969. Then the "N" prefix series began and ran until final production ended in 1993.
The Model 57 featured the square butt N target 3-screw frame, blued or nickel, counter-bored cylinder (known by collectors as the recessed cylinder), pinned barrels in 4-6-8 3/8 inches, a 1/8 inch front ramp sight with a red insert, and a micrometer click, white outline rear sight. Grips were the oversized target Goncalo Alves (special walnut used by Smith) stocks with a gold metal S&W Medallion. These features were all classic "N" frame Smith factory set ups.
Just in the past few years, some Model 57-5 versions were produced but that production did not last long. Those models sold out quickly. During the entire original production there were model changes which were designated by a 57-dash number stamped inside the cylinder yoke above the serial number of the handgun. So, 57-1 through 57-5 indicated the various model changes over the total span of the production.
For those interested, a number of reference books are available to give further details on Smith firearms. A worthy reference resource is the Standard Catalog of Smith and Wesson by Jim Supica and Richard Nahas. This comprehensive book covers some 770 models of Smith and Wesson's complete with numerous color photographs.
Today, "N" frame 57s are very hard to find. The two Model 57s shown here were secured by a private collector after over 20 years of searching gun shows and dealers. These two include the 4-inch and 6-inch blued models. This collector has never seen a 57 with the 8 3/8 inch barrel for sale and only a very few with the nickel finish, which do not appeal to this collector anyway. These Model 57s were not new, but nearly and still very enjoyable to shoot.
The .41 Magnum came out in 1964 as a cartridge to fill the gap between the .357 and .44 Magnums. It uses 210 grain bullets and is suitable for hunting up to deer sized game at close ranges. The Model 57 is still a highly collectible handgun.