Watch: Hickok45 With A M&P Shield 2.0
Kevin Felts 12.06.17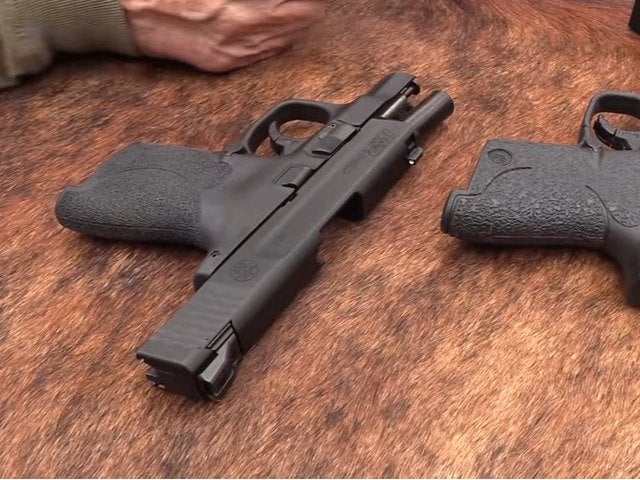 Hickok45 is at it again. This time he has a M&P Shield 2.0 at the range.
While S&W has been making handguns for well over 100 years, their semi-autos never gained the popularity of other brand names. Here is an example: In 1984 testing took place for a new handgun to replace the aging 1911. Everyone knows about the Sig P226 and the Beretta 92F. But what model did S&W submit? It was the S&W 459M.
And although many modern handguns are known for their performance during the 1984 trials, the 459M faded into obscurity and was eventually discontinued.
During the XM10 trials of 1989, the 459M had a chance to redeem itself. Sig backed out of this project, leaving the contest between the Beretta 92F, Ruger P85, and the S&W 459M. Once again, the Beretta was picked as the winner. Almost three decades later, the Beretta 92F and Ruger P85 each have a loyal following–the 459M, not so much.
After several decades of trying to break into the semi-auto handgun market, it looks like S&W may have a winner.
Specifications
From the M&P 9 SHIELD M2.0 web page:
Aggressive grip texture for enhanced control.
New M&P M2.0 crisp trigger with lighter trigger pull.
Tactile and audible trigger reset.
Extremely thin and lightweight – can be comfortably carried all day.
M&P's patented take-down lever and sear deactivation systems allow for disassembly without pulling the trigger.
Includes 2 magazines:
One 7-round magazine.
One 8-round extended grip magazine.
Optimal 18-degree grip angle for natural point of aim.
Armornite® durable corrosion resistant finish.
Backed by Smith & Wesson's Lifetime Service Policy.
Now for the video.
It looks like Smith & Wesson might be on a roll. They are finally giving the consumer the quality they demand, and at a reasonable price.
As this article is being written, Brownells has the M&P 9mm Shield for $399 with a $75 gift card.  Regular price is $449. That is a great price.
Hickok45 had a lot of good stuff to say about the Shield 2.0. It is nice to see S&W finally getting the traction they deserve.