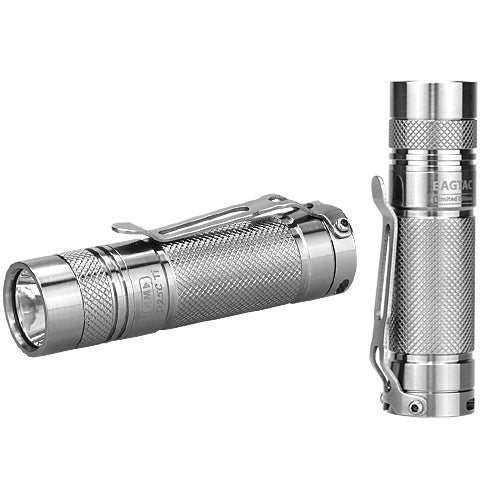 The first day of Gear Christmas my true love gave to me a flashlight in Hi CRI.
The Choice: Ti EagleTac's D25C ($82 MRSP)
Why:
Flashlights are amazing tools. In dark and cramped places, they let you work on. In bygone years, the warm of glow of an incandescent bulb resulted in relatively small amounts of light and terrible power regulation. With the advent of LEDs those two issues died off. But LEDs can't do one thing that incandescent bulbs do incredibly well—they can't render colors accurately.
Color rendering falls on a scale of 0-100, with 100 being the most accurate rendering of colors. Sunlight on a clear day is the standard, a perfect 100. At a Color Rendering Index score of 100 reds are red and blues and blue. Incandescent bulbs naturally rendered colors very accurately—not sunlight accurate but vastly superior to the icy blue, disco purple, and sickly green of the majority of LEDs.
Then manufacturers started noticing that people appreciated accurate color. If you have worked in a computer CPU with a variety of wires or behind an appliance looking for the right fuse or switch, the difference between blue and purple can be hard to discern with a standard LED. But with an LED tweaked for color rendering, its a cinch. Nichia emitters are among the most accurate color rendering emitters on the market, routinely hitting 93 out of 100. To get better from a man made source you have to go crazy and get art museum lights, lights used in movies and films to make outdoor scenes indoors or get lighting from a surgical suite. 93 out 100 is about as good as a consumer can get. You sacrifice a bit of punch, around 15% of the total lumens output, but the end result is worth it, especially when you consider that light is perceived logrithmically not linearly (meaning it takes a huge loss in the number of lumens produced for a person to be able to see the difference, especially at higher lumens counts).
EagleTac was one of the early adopters of full Hi CRI (and not just warm LEDs, temperature and color rendering are a bit different) emitters. The Ti D25C, their standard EDC torch, carries a Nichia 219b, Gen II emitter for some of the truest colors on the market. The fact that the light also is compact, has a nice clip, and comes in titanium, well that it is all just a bonus. Color rendering really matters and this is a great light that also has great color rendering. Plus, it won't set you or a loved one buying it for you back too much.
Alternatives
Scrooge Before Ghost Visits: EagleTac's D25AAA
Even though it is more common now than a few years ago, Hi CRI emitters are generally offered at a premium or are rarely offered. So the fact that the D25AAA has a Hi CRI option and costs less than $30 is amazing. This is a great light, like its big brother, that just happens to produce a killer beam.
Scrooge After Ghost Visits: TorchLab's BOSS 35
You want 1200 (or more accurately about 1000 lumens)? And you want Hi CRI? Who do you think you are, Mr. Moneybags? Oh you ARE Mr. Moneybags. Okay then the BOSS 35 is an easy choice. It has near perfect color rendering, the best body tube design on the market, is quite small, and has the most sophisticated programmability ever seen in a flashlight. It does everything as well or better than any light currently available. This is your obvious choice. Hi CRI and killer everything else.