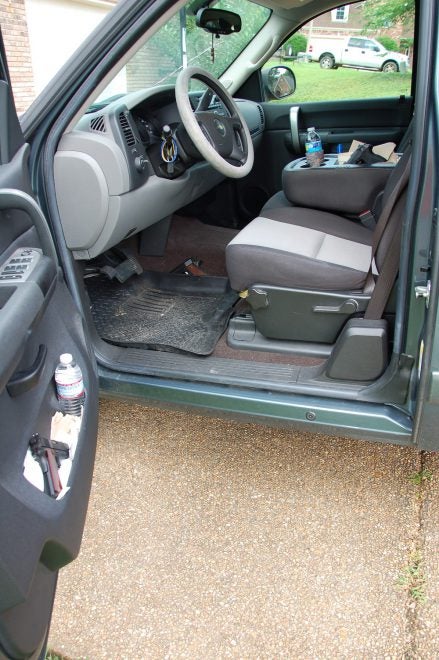 Nearly every day there is news of weapons being stolen from private vehicles out in public places. Recently there was a rash of teenagers combing a residential neighborhood checking for unlocked vehicles parked in the driveways of private homes. They were eventually caught and seven, yes 7 handguns were recovered. The cars were unlocked. Can you spell s-t-u-p-i-d?
So, what are some recommended ways to keep a gun in a vehicle that is both concealed from public view, obviously out of sight, but still capable of being accessed quickly when the need arises. There are many options.
Gun concealment holsters are available from Gum Creek out of Oxford, Georgia. They offer a variety of "holsters" for handgun security in vehicles. These include their basic holster with a mount that permits placement underneath the steering column, which is hard to see from outside a vehicle. They also offer a fully concealed handgun holster mount for vehicles. Additionally, Gun Creek has a car vault that can lock up a handgun in a vehicle. Check all their products at www.gumcreek.com.
I have used the Gum Creek holster that hooks up under the dash below the steering column. It is a very functional and sturdy holster that once mounted fully secures your handgun, but in such a position that allows for easy and quick reach from the driver or passenger seat.


Just look around your vehicle as you are seated in the driver's seat. This will help you determine what spaces are within easy reach to grab a handgun when needed. These are only for use during actual travel, not when you vacate the ride.
Most vehicles have some kind of a center console. If there is a lift up top to keep a gun out of view that is even better. A small pistol could be carried in a black, obscure holster like a Sticky Holster that can hide the gun in plain sight, but also be placed in a pants pocket when departing the vehicle.
This same set up can be used to slide the pistol down beside the seat, but we sure it is secure and does not slide or vibrate down out of reach or become lodged. Door panel pockets cab work, too. If your handgun is small and light, it might fit above a sun visor.
Carrying a gun in a vehicle is serious business. Keep it out of sight, but ready. Take it with you when you leave the car, and always lock up the vehicle regardless.