Review: LuminAID PackLite Max Solar Light & Phone Charger
Russ Chastain 12.12.17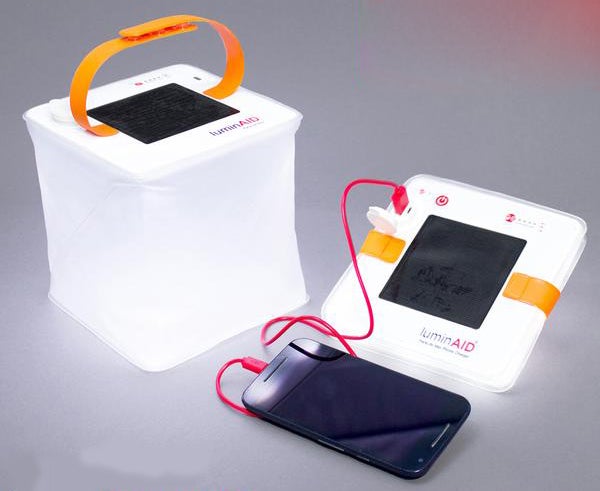 I've had the good fortune to test a LuminAID product recently; it's a combination inflatable area light and portable battery (phone charger) called the Max 2-in-1, which can be charged via USB or the onboard solar panel.
Manufacturer Specs
Lantern/area light has 5 settings: Turbo, High, Medium, Low, and Flashing
Rated 150 lumens on Turbo mode for 3-5 hours
50 hour max run time on Low Mode
Recharge using Micro USB (1-2 hours) or onboard high efficiency solar panel (12-14 hours)
5V 2.4 amp USB output port to charge your devices from the onboard battery.
Built-in 2000 mAh battery has enough capacity to recharge most cell phones 100% and give your tablet a boost
Waterproof, floats, and can be submerged up to 1 meter deep (IP67)
Approximate dimensions: 6″ W x 6″ L X 1″ H (flat) / 6″ x 6″ x 6″ (inflated)
100% PVC-free, lead-free, and RoHs compliant
Mine came with a red USB/micro USB cord about 39 inches long.
As I said, it's a simple device — which often means it's one of the best you can get. My testing showed the runtime claims to be accurate; with 3 of the 4 charge status lights on, I turned on the light in my small office at night. It provides enough light to see what's going on, and to read by.
I simply pushed the button once to turn it on. This means it was on the TURBO setting, which is the brightest setting, and of course uses juice the fastest.
After almost 3 hours (2:47 to be exact), it abruptly died. Further testing proved this to be the case; when the power runs out, it's out. There is no slow fade, and pushing the button to check the charge status indicates no charge at all.
I charged it overnight and let it sit for weeks, and it didn't retain the charge well. After about 8 weeks, the light's runtime was minimal before it kicked the bucket.
I meant to give it a nice long all-day solar charge on the following day, but life intervened and it only got to solar-charge a few minutes at sunset. Even at that, it ran for 10 minutes at the brightest setting before it switched off. I thought that was pretty good.
It has a small red light which illuminates when it has enough light to solar-charge, and it doesn't take much daylight to light up that red light. So it gathers energy much better than previous generations of solar panels did.
It's got a surprisingly durable strap, which can be looped around something or hung on a hook to suspend it so it can provide area light.
Here's what the manufacturer says about it:
The PackLite Max Phone Charger introduces a 2-in-1 phone charger and solar lantern that charges mobile devices at the same speed as wall outlets. In addition to the high-efficiency solar panels, the PackLite Max Phone Charger can also be quickly charged through a new USB charge port (USB cord included). Our adjustable strap allows you to easily hang the lantern on trees or in tents, and can even be used to daisy-chain multiple lights together. Given the PackLite Max's USB charging ability and expanded lighting area, it is an ideal lantern for family and RV campers.
I'm notoriously critical, but my only gripes here are that it's made in China and the plastic part containing the USB in & out ports is pretty big. On the plus side, the solar panel works better than expected, the light is bright, and the battery life meets the manufacturer's claims.
It's a well-made light that works well and appears to be pretty durable to boot. The ability to charge your phone or other device is a pretty great bonus
As of December 13, 2017, the LuminAID PackLite Max Solar Light & Phone Charger is listed on its site for $49.99.