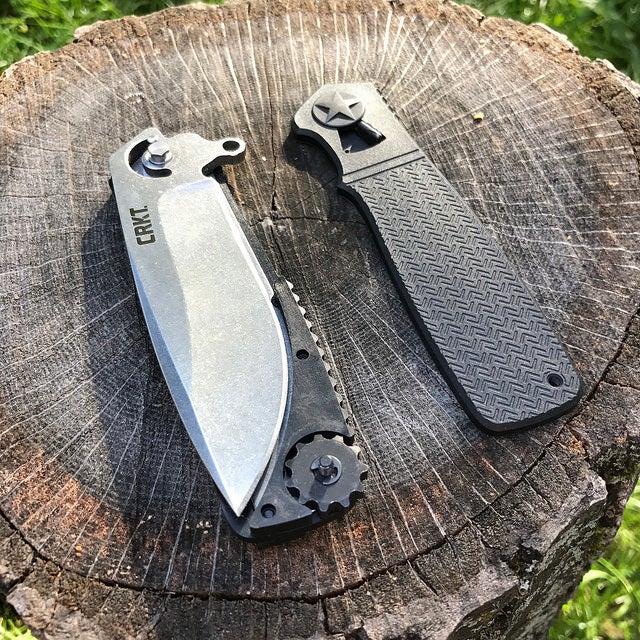 On the fifth day of Christmas my true love gave to me, a knife to handle dirty things.
The Choice: CRKT Homefront EDC with Field Strip technology
For me, any knife with a "revolutionary" feature is suspect. I have seen too many of these designs fail—the feature becomes a gimmick that dominates and distorts the design until it is useless as a knife. Something like the CRKT Edgie, a self-sharpening knife, is a perfect example of this. Every time the knife closed and opened it passed between two honing surfaces, which in theory sharpened the knife, but in practice it made the whole knife a mess. Dust and debris gathered inside the handle and the honing plates never did a good job of sharpening the edge. They also added a ton of weight and thickness to an already-clunky knife.
In order for one of these gimmick knives to work I have simple two-part test: 1) would I buy this knife even if there were no gimmick, and then, 2) does the gimmick work?
In the case of the Homefront, it passes the first part of the test due to its simple design, excellent flipper, and good blade shape. If this were just a standard knife without the ability to disassemble it without tools, I'd certainly consider it. In fact, there is another knife in the CRKT line up that is basically the Homefront without the gimmick: the Prowess. The handle shape is a bit different, but the blade shape and size are basically the same.
The second part of the test is usually tougher to pass. The Edgie was a huge design blunder. Benchmade's LFK, a folder that has a blade longer than its handle, was a design no one asked for and no one liked. The Spyderco T-Mag with its magnet-based "lock" was quickly phased out.
Gimmicks are hard to make work, especially on a product as simple as a knife. But here, the Homefront passes again. In my other hobby (woodworking), tool-free modification and maintenance has become the norm—every company makes a keyless drill chuck. So the idea of tool-free maintenance is a good one. And fortunately, the execution here is even better. I dropped the Homefront EDC in my sons' sandbox, covered it, and let them really work the sand into the knife. Then in a few minutes, I had it disassembled, cleaned, and working flawlessly with an easy flipping action and a dead-centered blade. Field Strip technology works, and it makes the knife better and easier to use.
Alternatives
Scrooge Before Ghost Visits: Gerber EAB
Not so much a knife as it is a box cutter holder, the EAB lets you cut stuff and not worry about the blade, because it can be swapped out. Given its price, around $15, the entire unit is cheap enough to use and abuse and swap out later for a new EAB. If you cut awful, terrible material like shingles or insulation, get an EAB. Your EDC knife will thank you.
Scrooge After Ghost Visits: G&G Hawk MUDD Knife
Well, it's possible that someone out there is both wealthy AND loves to perform cutting tasks in a pit of quicksand. If so, the MUDD, with its sealed pivot, is the knife for that person. This is a small-batch knife made for the Hawks by Millet Knives, so the necessary quality and precision are there.