Following a flurry of late-year releases, Spyderco has updated their product guide for 2018. This 184-page treasure trove is filled with folders, fixed blades, and even several multi-tool designs.
While longtime favorites such as the Delica and Dragonfly retain their places, the company has also beefed up their collection of USA-Made blades, including the Shaman and upcoming Lil' Native. Here are a few other models that could make an impact in the new year.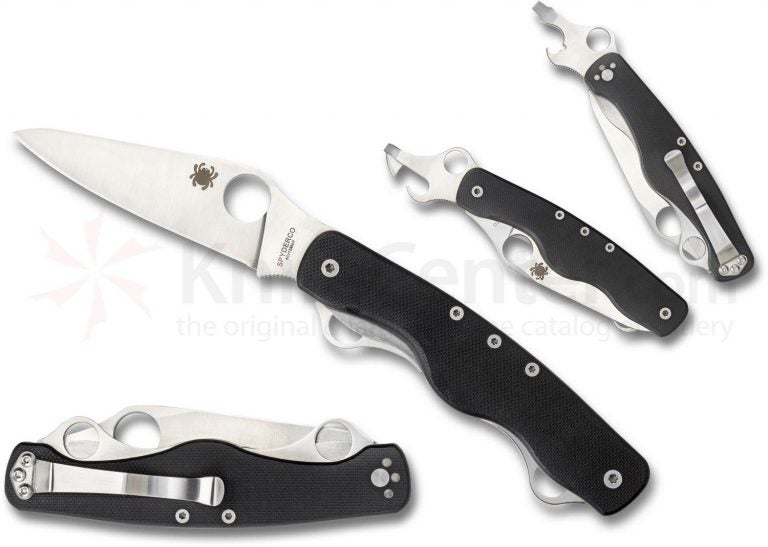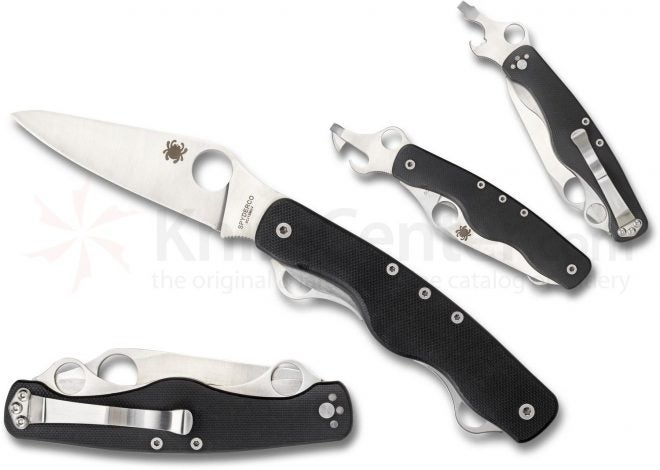 Behold, Spyderco's latest entry into the world of multi-tools. This multi-function folder features a trio of blades, each composed of budget-minded 8Cr13MoV steel (Why not VG10, guys?). Each of the three tools – Blade, Can Opener, and Bottle Opener – are equipped with the company's trademark "Round Hole" deployment system. The main blade is held in place with a liner lock, while the others are standard slipjoints. This is a fairly interesting package from Spyderco, especially given the 3.5-inch length of its primary blade.
SHOP NOW
This fixed blade knife is a new addition to Spyderco's Salt Series. As the name would indicate, it's designed for use in an around aquatic environments. The blade is composed of the same rust-proof LC200N found on the popular Spydie Chef, equipped with a "full-flat grind, a distal taper, and an integral lower guard." Fisherman, fowl hunters, and other outdoorsmen can expect good ergonomics from this 9.47-inch model, which comes with a Boltaron sheath and G-Clip mount. The price hasn't been set on this one, so keep an eye out for retail details.
Looking for something a little larger? Check out Spyderco savant Sal Glesser's riff on an American classic. This 13.15-inch modern Bowie design is composed of CPM-154 steel, with seven inches of cutting edge. He's included a prominent forward finger choil to help you control this monster, with a blade guard and hooked pommel in the rear. G-10 handles and a traditional leather sheath round out the package. If you've been tucking away a dollar each day for the past year, this would be an interesting way to spend 'em!
For the full Spyderco 2018 catalog, click here.