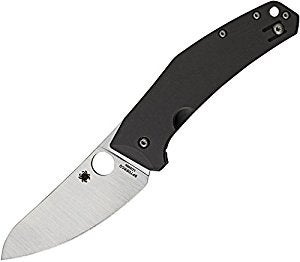 The seventh day of Christmas my true love gave to me a knife to take swimming.
The Choice: Spyderco Spydiechef
H1 is really corrosion resistant, but it holds an edge like an icicle in summer. You can find it on a dozen or so Spydercos. It does okay. It also constrains a lot of what you can do with the blade in terms of grind. Notice there are no full flat grind H1 blades? So what do you do if you want a knife to use in the kitchen or around water? Fortunately, a relatively new alloy is available, LC 200N also known as Z-Finit. It is quite corrosion resistant. But unlike H1, LC 200N takes a beautiful edge, can handle a lot of different grinds, and is as hard as S35VN.
The Spydiechef is an excellent design, something that runs between the kitchen and the woods pretty ably. This is a Marcin Slycz design, like the Techno and the Slycz Bowie. There is a lot of titanium and a framelock like the rest of Slycz's Spydercos. They are also very solid, very clean designs and all of them work better in the hand than they look. The Spydiechef is pricey, running around $200 on the street, but for this level of performance and corrosion resistance you have to pay.
Alternatives
Scrooge Before Ghost Visits: Spyderco Mule Team 25
Spyderco Mules are like free samples for steel junkies. Their not exactly free, but they are very inexpensive for the steel you get. The 25 runs the aforementioned LC 200N. The beauty is that the knife runs $70. It's a very simple knife—no handle, no sheath. That's how Spyderco can get exotic steel out there for so little money. Fortunately there are enough mules out there that folks make accessories. You can get a great set of scales for the mule series knives through from Halpern Titanium, among others. Halpern's run $50. Your still $80 under the Spydiechef. Finding a sheath would be relatively easy and not that costly either. In the end, you get a great fixed blade, with a state of the art super steel for under $200.
Scrooge After Ghost Visits: Sandrin Venor
Tungsten carbide is significantly harder than steel. Sandrin hits 71 HRc with their version of the material. It's virtually impervious to wear, it is also 100% rustproof, and it can be sharpened to an incredible edge. Sandrin pretties the material up considerably, putting a high polish on the knife. They also finish the handles well and give the knife a traditional shape. These are truly and without question next gen knives. Some of the designs are a bit boxy and chunky, but the Venor is a classic fixed blade design with super material. The only drawback is the price. This knife runs $1,300. So yeah, this definitely Scrooge after the ghost visit and maybe a good run on the stock market in the preceding twelve months. A REALLY good run.