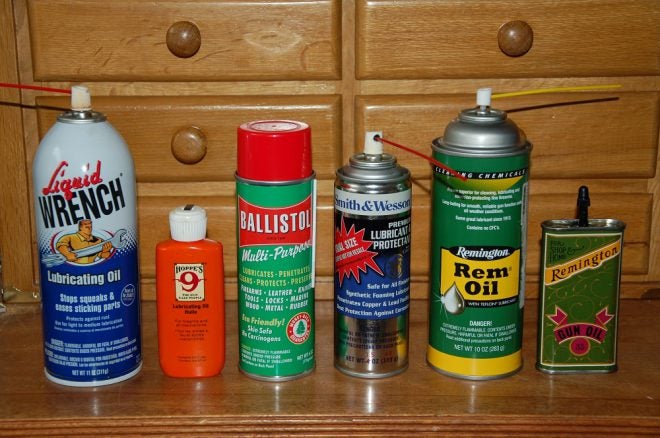 What exactly do you expect gun oil to do? As you may know, there are many products on the market today labeled (truthfully or erroneously) as gun oil, and it is not unusual for gun owners to use all kinds of lubricant products as improper substitutes for true gun oil. So, what are the best oil products to use on your firearms? And what are gun oils really geared to do?
Oil in particular is a petroleum-based product with the universal purpose of protecting metal from corrosion and reducing friction between moving parts. In terms of firearms function, think of it as engine oil. And as with engine oils, gun oils have evolved over time, too. Now there are specialty oils and synthetic gun lubricants with many types of additives.
Some so-called "gun oils" also claim to be useful for gun cleaning. I have one new aerosol can of a multi-purpose oil that says it is for firearms, leather, knives, tools, locks, marine, wood, metal, and rubber. It claims to lubricate, penetrate, clean, protect, and preserve. A gunsmith told me it is the first thing he sprays on any gun before he cleans or works on it. This is Ballistol, which was presumably developed in Germany.
As for me, I tend to be old school or conservative when it comes to lubricants for use on firearms. I use gun oil or at least products sold specifically for use on firearms. To that end, I regularly use gun oils sold by Browning, Remington, and Smith and Wesson, and others.
I use gun oil for metal protection from inside and outside elements, to prevent rust, and to make gun components function smoothly. I do not categorically use gun oil as a substitute for a good gun-cleaning solvent. Sure, I might run a swab of gun oil down the rifle bore after a day afield hunting and then wipe down the exterior with an oiled gun cloth, but I do not use gun oil for bore cleaning powder, lead, or bullet residue from the gun barrel, action, bolt, or other gun mechanisms that need a thorough cleaning.
After cleaning, I follow up with gun oil, again as a rust prohibitor/protectant and lubricant.
So, buy and use any well-known gun oil that is designated as such. Forget water displacement (WD) sprays or other concoctions not intended for use on firearms.