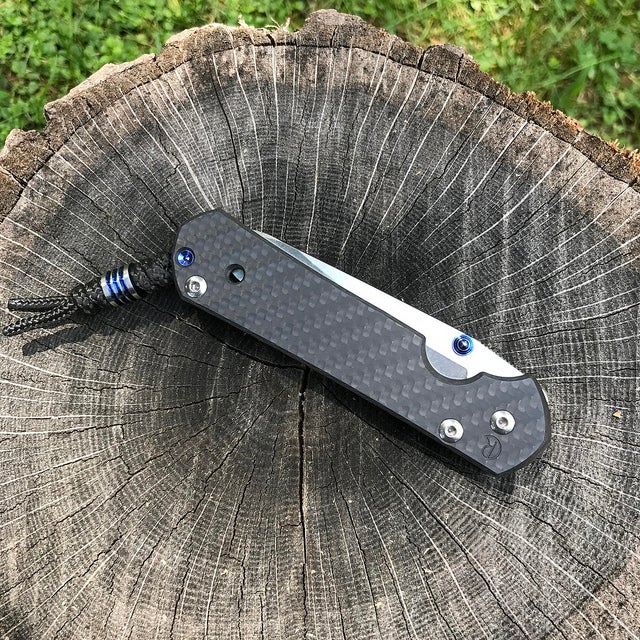 On the Eleventh Day of Christmas my true love gave to me knife with handle scales entracing
The Choice: Knife Art Carbon Fiber Sebenza (Small Insingo)
Every Knife Knut, after the honeymoon phase of knife ownership, invariably pulls their new favorite knife out of their pocket and starts wish-tweaking it. "I wish this was different" or "If this had such and such." Its a natural part of the process of figuring out what works for you. And I have found it happens even with the best and most time-tested designs. When I first got a Sebenza (my first of a couple), I looked at it and had very little I would change. Of course, I'd always take a lighter knife. Then after a few years I realized that while the clip point blade was the "proper" visual choice, I preferred blades with continuous curve edges. The blade shape on the Benchmade Mini Grip 555hg, for example, was a favorite (and still is). So after years of looking at Sebenzas I realized my only two tweaks to this absolute classic would be a lighter form and a more work-friendly blade shape.
The Knife Art Carbon Fiber Small Sebenza with Insingo blade is just that knife. This is one of maybe two knives that I honestly couldn't tweak. There is nothing I'd change. It is an ideal size, the perfect weight, and it has a great blade shape. But there is something about the carbon fiber scale that I can't shake. Chris Reeve's carbon fiber is just better than the competition's. It is glossy and yet grippy. There was never a stray fiber. And it repelled wear with aplomb. In short, it was perfect. If you want perfection in pocket knife form, this is it.
Alternatives
Scrooge Before Ghost Visits: Case Burnt Indigo Copperlock Wharncliffe
The Copperlock is a venerable pattern that Case has used to great success for many years. But the wharncliffe variant, in my mind, is the best iteration of this blade. It looks sleek and aggressive, even with the grandpa friendly brand and the bone handles. But this latest version, with Burnt Indigo handles is a true marvel. I looks amazing, with depth and variation from knife to knife. And, unlike a lot of folders being made these days, this one actually carries well. There is something to be said for slim and beautiful in a knife.
Scrooge After Ghost Visits: Northmen Hunters Knife in Curly Birch and Camel Bone
This knife is one of earliest patterns produced by John Neeman aka Northmen Guild. It is a splendidly curvy knife with excellent ergos, a ZDP-189 blade, and a masterfully made leather sheath. The steel is supposed to be the star attraction, of course, but the handle scales steal the show here—the highly figured curly birch is set off with a thin strip of butterscotch colored camel bone. The entire assembly is a siren's song, practically a magnet for your hands and eyes. At $1350 this is definitely an AFTER ghost visit knife.