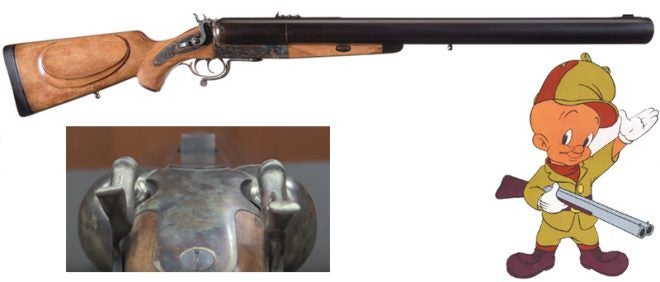 The first thing I thought of when I saw this gun was Elmer Fudd, whose big honking scattergun never seemed to harm anything other than himself. And in that same vein, this gun looks like it might cause damage on both ends when fired! It's a custom-made firearm, dubbed the "Double Deuce" (and marked as such).
This. Thing. Is. Huge.
Helping with recoil is the extreme mass of this side-by-side muzzleloader; it weighs 44 pounds!
You might want to start learning how to make your own black powder; each round of ammo for this gun takes 500 grains of powder.
We don't get to see Ian shoot the gun, but we do get to see him shoulder it. And fortunately for him, this rifle's stock was designed for a left-handed shooter.