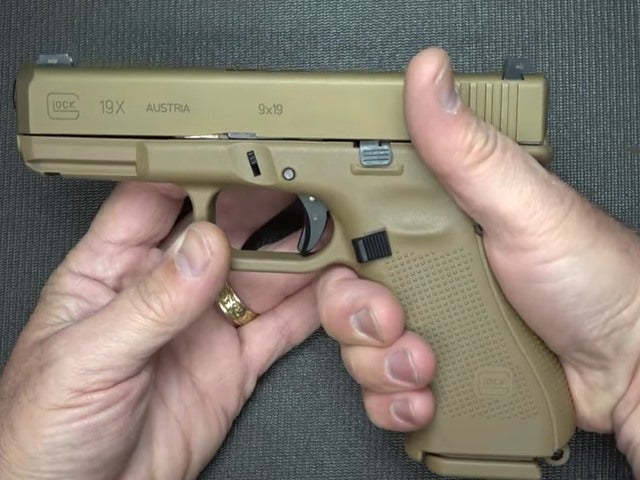 Glock has a special treat for everyone in January 2018, and that is the Glock 19X. What's so special about the 19X?  Glock took some of the request from the XM18 trials, added them to a Glock 19, and is releasing the handgun to the public.
The Glock 19X reminds me of the 1980s and 1990s when civilian handguns had lanyard loops. This was a trend back then that was a holdover from the M9 handgun trials. Companies who participated in the M9 tests sold a version of their tasting sample to the public. With Ruger, this trend continued into the 1990s with the P90 an P91 handguns. More than 30 years after the M9 trials, Beretta continues to put a lanyard loop on the 92fs.
The Glock 19X will be available to certain retailers starting on January 22, 2018.
Specifications
Comes with three magazines: 2 X 19 round, 1 X 17 round.
Grip extends in front of the magazine.
Lanyard loop.
Front of the slide is beveled, much like the Gen 5.
No finger grooves like on the Gen 4.
Dual recoil spring.
Marksman barrel.
No manual safety.
The military tests version required a frame mounted safety. That safety was left off the 19x.
Now for the video.
It would have been nice if Glock offered an exact version of the G19 that was used in the military XM17 tests. This would have included the manual safety. Some shooters like a manual safety on their firearms. No, your finger is not a safety.
This is a very good decision by Glock to offer the G19X to the public. Our tax dollars paid for the M9 and Xm17 testing. As such, we should reap the lessons learned from those tests.
Sootch00, thank you for another excellent video, keep up the great work.
On a personal note, I am up in the air to whether I should get a Gen 5, or a 19X. Between the two, which one would the readers buy?